Philippine regulators did not approve antiparasitic drug ivermectin as Covid-19 vaccine substitute
Multiple Facebook posts shared hundreds of times in the Philippines claim that ivermectin, an antiparasitic drug, can be used as a substitute for Covid-19 vaccination. The posts shared an advisory for a drugstore stating the drug had been approved by the Food and Drug Administration (FDA). The posts are misleading: the posts shared an advisory that states government regulators approved ivermectin to treat parasitic roundworms. There is currently no clear evidence that ivermectin is an effective treatment for Covid-19, according to the FDA.
The claim was published in this Facebook post by former Philippine interior secretary Rafael Alunan III on May 10, 2021.
The post shows an advisory from Mercury Drug, a leading drugstore chain in the Philippines.
The advisory reads: "Please be advised that Ivermectin Tablet intended for human use is now approved and duly registered with the Philippine Food and Drug Administration as an antinematodal agent and is classified as a prescription drug.
"We are awaiting for the final product to be made available for commercial sale. Rest assured Ivermectin will soon be available at all Mercury Drug stores nationwide."
The post's caption reads: "This will benefit those who cannot access 'vaccines', and affordability will allow the underprivileged to protect themselves."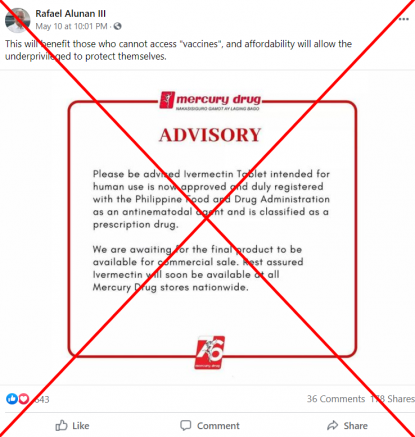 Screenshot of the misleading post taken on May 12, 2021
The drugstore advisory was also shared alongside a similar claim in Facebook posts here, here and here.
The posts, however, are misleading.
Drugstore advisory
The advisory was originally published here. It did not indicate ivermectin can substitute for Covid-19 vaccination as the posts misleadingly claim.
It states the drug had been approved "as an antinematodal agent" by government regulators.
An antinematodal drug is "a substance used in the treatment or control of nematode infestations" according to this database managed by the European Molecular Biology Laboratory. 
Nematodes are parasitic roundworms.
The drugstore advisory makes no reference to Covid-19.
'Dangerous claim'
Dr. Eric Domingo, director-general of the FDA, told AFP ivermectin has not been approved to treat Covid-19.
"Ivermectin has been approved as an anti-parasitic [drug]. We don't recommend it [to treat Covid-19] because there is still no evidence it works against Covid-19," he said on May 18, 2021.
Dr. Aileen Espina, member of the Healthcare Professionals Alliance Against Covid-19, a nonprofit organisation of medical professionals in the Philippines, told AFP there is no scientific basis to support the claim in the misleading posts.
"[Ivermectin] is not even antiviral. All credible meta-analyses agree that the quality of evidence [showing] ivermectin can help with Covid-19 is low," Espina said on May 15, 2021.
"For it to be widely used, and then to be promoted as an alternative for vaccination for me is very dangerous."