The Philippine health department said it did not issue this 'checklist' for COVID-19 symptoms
A purported checklist for symptoms of novel coronavirus, COVID-19, has been shared in multiple posts on Facebook and Twitter alongside a claim that it was issued by the Philippine Department of Health. The claim is false; the Philippine health body said it did not issue the chart.
The graphic was shared here on Facebook on March 22, 2020. It has been shared almost 800 times. 
Titled "COVID-19 CHECKLIST," it carries the Philippine Department of Health logo and states it has been "adapted" from the body's guidelines.
It assigns points for each symptoms of the pandemic; ranging from one point for a cough to three points for history of travel to an infected area.
Those who achieve lower scores are advised to "observe and re-evaluate after 2 days", and those with higher scores are advised to seek medical help.
Below is a screenshot of the misleading Facebook post: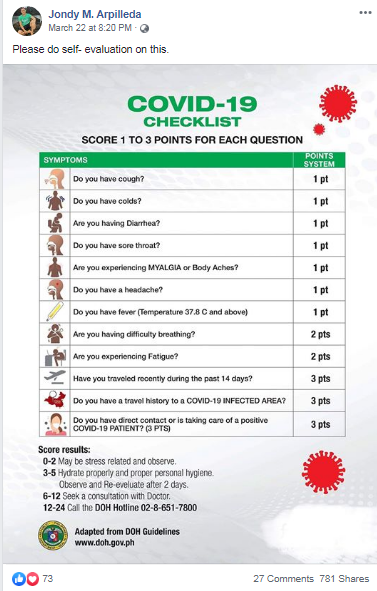 Screenshot of Facebook post
The post's caption states: "Please do self- evaluation on this."
COVID-19 has killed more than 18,589 people and infected more than 416,686 others worldwide, according to data from the World Health Organization on March 26, 2020.
The chart has also been shared alongside similar claims on Facebook here and here, and on Twitter here and here.
The claim is false.
On March 23, 2020, the Philippine Department of Health addressed the claims circulating online in this statement.
It reads, in part: "DOH did not release any checklist with a score system of COVID-19 symptoms."
Below is a screenshot of the DOH statement, which includes a photo of the self-check chart marked with a red "X":
Screenshot of DOH post
The numbers in the checklist also do not tally; the sum score of all the symptoms is 20, but the graphic lists a maximum score of 24. 
The Philippine government has announced it will restrict COVID-19 tests to those with "mild symptoms who are elderly, with underlying condition, immunocompromised" or "in severe and critical condition".