Online coronavirus scams spread in Nigeria amid lockdowns
African countries including Nigeria are experiencing an increase in the number of fraudulent activities on social media as internet fraudsters embark on scamming sprees amid the coronavirus pandemic. AFP Fact Check has rounded up some of the most popular online claims fabricated to exploit unsuspecting internet users in the continent.
The fast increase in online scams followed a raft of measures, including lockdowns declared by some African countries to contain the spread of the novel coronavirus, which has infected more than 24,000 people in the region as of April 22, 2020, according to an AFP tally. 
Criminals are taking advantage of the increased demand for personal protection equipment (PPE) and coronavirus testing, as well as the financial hardship that trailed the stay-at-home orders, selling fake medical products, commit financial frauds and unleash cyber-attacks. 
Earlier this month the International Criminal Police Organisation (INTERPOL) foiled a 1.5-million-euro ($1.6 million) face masks scam involving Germany, Ireland and the Netherlands. Around 500,000 euros ($544,000) of the amount transferred for the procurement of the essential medical items were traced to Nigeria.
"The fraudsters impersonate legitimate companies, using similar names, websites and email addresses in their attempt to trick unsuspecting members of the public," INTERPOL warned in its guidelines to reduce the chance of being a victim of financial crime. 
Spike in complaints
Nigeria has seen a  spike in the number of complaints about fraudulent texts, WhatsApp messages, and emails, the Economic and Financial Crimes Commission (EFCC) said in a statement sent to AFP. 
The EFCC is the Nigerian government body empowered domestically to prevent, investigate, prosecute and penalise economic and financial crimes.
AFP found many of the unsolicited messages which claim to offer free services included "Do-It-Yourself" COVID-19 tests, subscriptions to video-streaming service providers, and government and individual-led interventions. Criminals use these tricks to lure victims into revealing sensitive personal data.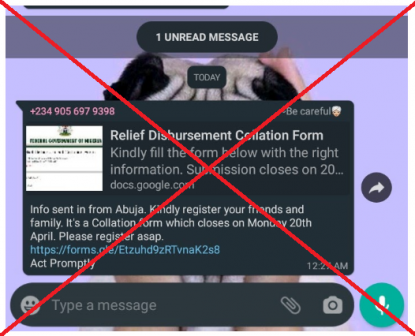 Screenshot of the misleading WhatsApp message, taken on April 22, 2020
"The messages are embedded with malwares and other malicious codes which when clicked, trigger a program that steals and compromises mails, banking logins passwords, credit-related information and other critical data contained on the recipient's devices," EFCC chief Ibrahim  Magu was quoted as saying in the statement. 
"Victims stand the risk of losing both confidential information and monies, since unauthorised access may have been granted to cybercriminals. They are also in danger of being infected with ransomware which will automatically lock their electronic devices." 
Fake government handouts
Some of the fraudulent messages were shared in multiple Facebook, Twitter and WhatsApp posts, including this one, headlined: "FG Lockdown Funds". The post promises Nigerians 5,000 naira (11.82 euros, $12.85) to cushion the effects of the stay-at-home order in the largest city Lagos, neighbouring Ogun state, and the capital Abuja. 
Screenshots of the misleading posts, taken on April 22, 2020
The cash pledge, purporting to give Nigerians government lockdown funds, is one of several tactics aimed at defrauding people seeking to benefit from government relief packages during the pandemic.
The now-deleted publication tricked victims to complete a survey demanding personal information.  People were then asked to share an invitation link to seven WhatsApp groups and provide their bank account details to claim the prize. AFP completed the whole process and no money was paid.
Screenshot of the fraudulent portal, taken on April 17, 2020.
A few days after the fraudulent post was deleted, a similar link with an emblem of the Nigerian government began to circulate online. This time, it was a Google form titled: "Relief Disbursement Collation Form". We've archived the link here.
Screenshot of the fraudulent online form, taken on April 20, 2020.
AFP has debunked similar scams here and here. They all tap into the Nigerian government's cash transfer initiative for 3.6 million households. "It is the work of scammers who are trying to cash in on a global tragedy," Nigeria's Information Minister Lai Muhammed said. "Nigerians should please not fall for these scams."
In Kenya, an almost identical claim was shared on WhatsApp and Facebook after the government announced that it will be giving weekly stipends to needy households in order to cushion them during the pandemic.
Meanwhile, this Facebook post shared alongside a link to a publication claims Africa's richest man Aliko Dangote had pledged a 20,000-naira weekly allowance for Nigerians under a "Dangote Covid-19 Relief Funds" initiative. 
Screenshot of the misleading Facebook post, taken on April 22, 2020
However, the supposed allowance is "a scam", according to Dangote Group.
Bank impostors
Scammers also impersonate financial institutions by sending fake emails that request sensitive bank information from customers as a prerequisite for cash benefits.
For instance, this viral email screenshot, which claims to represent the United Bank for Africa (UBA), promises monetary incentives once victims validate their details using a link.
But UBA has warned that such emails should be ignored as they were "intended to defraud" customers, according to an email received by AFP. The email came a few hours after another Nigerian bank issued a similar warning against scammers.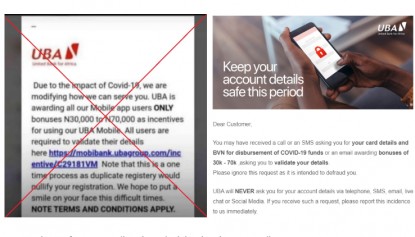 Screenshots of the scam email and UBA's debunk, taken on April 22, 2020
Rapid test kits 
Fraudsters are also trying to take advantage of Nigeria's low testing levels, with just more than 8,000 samples obtained from the 200-million strong population as of April 19, 2020. Social media adverts for coronavirus rapid test kits have proliferated in Africa's most populous nation despite warnings by the Nigeria Centre for Disease Control (NCDC) that these results are unreliable. We've archived some of the misleading posts here, here and here.
"These rapid test kits can provide false results. DO NOT USE," the NCDC said in a tweet. "There is no validated rapid diagnostic test kit for COVID19."
Illegal online shops like these here and here began to spread at the same time as the coronavirus outbreak. AFP recently tracked down a similar advert promoting the sale of an anti-malaria drug in Nigerian WhatsApp groups to a UK-registered website, which authorities have shut down. 
AFP updated this blog post with information from our bureau in Kenya.