One January 2019 protest video from Venezuela shared with multiple false claims
An aerial video showing a crowd of people singing during a demonstration has been shared by prominent US Senator Marco Rubio with the claim that it shows a demonstration in Venezuela on November 16, 2019. The same video was also shared thousands of times in English, Spanish, Portuguese and French with the claim that it showed a demonstration in Colombia. Both claims are false. The video was recorded during a protest in Venezuela on January 23, 2019 when opposition leader Juan Guaido proclaimed himself interim president of the country.
On November 16, 2019 Republican senator and former US presidential candidate Marco Rubio tweeted a link to an Associated Press story which said Venezuelan opposition leader Juan Guaido led a peaceful protest of thousands. Rubio said the report claimed the demonstration turnout wasn't large and tried to contradict it by adding a video with the statement: "Maybe I am missing something but the videos I am getting look pretty impressive to me." Rubio represents the US state of Florida, home to a large Venezuelan community.
Screenshot taken on November 26, 2019 of US Senator Marco Rubio's tweet
The exact same video was also shared thousands of times on Twitter on November 21, 2019 with the claim, "Something is sweeping South America, and the world. This is Colombia protesting their far-right government today." The English language post has since been deleted, but AFP archived it here.
The video caption was linked to the demonstrations on November 21 against the government of Colombian President Ivan Duque. 
It was shared in Spanish (1,2), including by Manuel D'Avila, a candidate in the 2018 presidential elections in Brazil, as well as in Portuguese and French. 
Venezuelan anthem in Colombia?
A key detail of the video indicates clearly that the images were not filmed in Colombia: the crowd is singing a passage from the Venezuelan national anthem. 
As recognized by an AFP journalist, the crowd is chanting this passage from Venezuela's national anthem: "A este santo nombre / tembló de pavor/ el vil egoísmo / que una vez más triunfó".  ("Upon this holy name / Trembled in great dread / The vile selfishness / That has once prevailed.")
Using a keyword search and a reverse image search, the AFP Factual team found the same video posted on YouTube on February 4, 2019. A tip from a reader also pointed to this version of the video posted on YouTube on January 23, 2019. According to both publications, the images were recorded on Cedeno Avenue, in the city of Valencia, in the Venezuelan state of Carabobo on January 23, 2019.
A Twitter search from that date finds the same video shared several times (1, 2).
On that day, then-leader of the Venezuelan parliament Juan Guaido proclaimed himself interim president, which triggered major demonstrations throughout the country, including on Cedeno Avenue in Valencia. According to local media,(1,2,3), protesters took to the streets against President Nicolas Maduro.
The demonstration was also captured in other videos posted on Twitter (1, 2, 3) in January. 
An analysis of the images of Cedeno Avenue available on Google Maps allows for the confirmation of the location in the video. Two of the buildings seen in the recording are visible on Google Maps,, as shown below.
Comparison of screengrabs taken on November 22, 2019 of a image from the viral video and an image on Google Maps
In addition, protesters raise a flag with three bands of the same width -- one red, one blue and one yellow, like the flag of Venezuela. The Colombian flag, by contrast, has a larger yellow band than the other two colors.
The November 21 protests in Colombia were captured on video by AFP. Here is an AFP story about the protest.
AFP photographers were also present at both opposition and pro-government demonstrations in Venezuela on November 16. This AFP report from the day estimated that about 5,000 people joined Guaido for a rally in Caracas while hundreds of Chavistas mobilized in support of Maduro.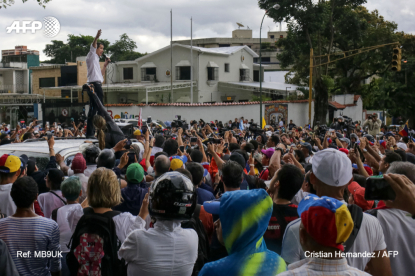 Venezuelan opposition leader and self-proclaimed acting president Juan Guaido delivers a speech outside the Bolivian embassy (background) in Caracas on November 16, 2019 (Cristian Hernandez / AFP)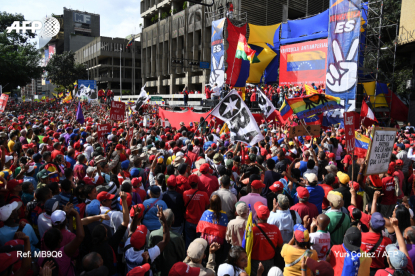 Supporters of Venezuelan President Nicolas Maduro attend a pro-government demonstration in Caracas, on November 16, 2019 (Yuri Cortez / AFP)
Despite multiple people commenting on Rubio's tweet that the video did not show a November 2019 protest in Venezuela, his tweet remained on his personal account, which has four million followers, as of November 26, 2019.
Note: This article was translated from Spanish by Marisha Goldhamer.