Old video circulates alongside false claim Delhi police quit after clashes with protesting farmers
After clashes broke out between police and protesting Indian farmers in Delhi on January 26, 2021, footage of a distressed police official has been viewed tens of thousands of times in social media posts claiming it shows a "revolt" and mass resignations within the Delhi police.  The claim is false; the video has circulated since 2018 in reports about protesting police officials in the city of Ranchi.
The 27-second video was published on Facebook here on January 29, 2021.
"Revolt in Delhi Police. 200 policemen tendered mass resignation," the post's Hindi caption reads.
Screenshot of misleading Facebook post
The video shows a police officer speaking in Hindi.
"We don't want this job. We have served a lot, but now we're sorry. I request to the government that we don't want to do this job anymore," he says. "Why should we be baton-charged? They beat us and didn't even spare my kid."
A social media handle called "TheFollowUp" can be seen listed for various platforms at the bottom of the video.
The post circulated after violent clashes erupted between police and farmers protesting new agricultural laws in Delhi on January 26, 2021.
The video was also shared alongside similar claims on Facebook here, here, here; and on Twitter here. 
The claim, however, is false.
A keyword search for "TheFollowUp" found that it is a local news outlet in the Indian state of Jharkhand. 
The same footage shared in the misleading posts was published on TheFollowUp's YouTube channel on September 18, 2020, several months before farmers protests began in Delhi.
The video's Hindi description translates as: "Protesting assistant police personnel are angry after being baton-charged, listen to what they are saying."
The same footage shared in the misleading posts can be seen in the YouTube video's first 27 seconds.
Below is a screenshot comparison of the video shared in misleading posts (L) and YouTube video (R):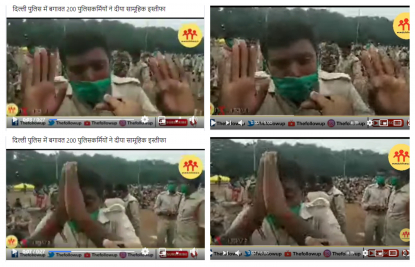 Image comparing screenshot
Several other major media outlets reported on the police protest in September 2020, including Indian news agency ANI and the Times of India. Both reports stated that demonstrating officers were police in Ranchi, Jharkhand's capital.
Delhi police also denied the claim about the old footage, stating on Twitter that that claim is a "mischievous social media campaign" that is "propagating false rumours regarding disaffection in police ranks."
"Old, unrelated videos were being posted with fake news of resignation of police personnel," reads another tweet in the police's thread published on February 1, 2021.
Old, unrelated videos were being posted with fake news of resignation of police personnel. Acting on such fake news, CyPAD Unit of @DelhiPolice registered a criminal case and has arrested one person Om Prakash Dhetarwal of Churu District of Rajasthan.
(2/4)

— DCP Cybercrime (@DCP_CCC_Delhi) February 1, 2021
The Indian government's Press Information Bureau also took to Twitter to refute the claim.
"There has been a claim on social media that 200 Delhi Police personnel have tendered mass resignation. #PIBFactCheck: This is a fake claim," the agency tweeted on January 30, 2021.
CORRECTION: This article was updated on February 4, 2021 to correct the spelling of Ranchi, the capital of the Indian state of Jharkhand. It is Ranchi, not Ranci.