Old photo of US singer Cher and her mother is being passed off as a recent image
A photo has been shared thousands of times on Facebook with claims that it shows a recent picture of 74-year-old US singer Cher and her 94-year mother. But the claim is misleading. The photo was actually taken in 2012 when Cher was 66 and her mother was 86.
The photo was posted on Facebook on June 12, 2020, showing Cher posing next to her mother Georgia Holt. The post, shared 69,000 times, reads: "OMG.. 74-year-old Cher with her 94-year-old mother."
Screenshot of the misleading Facebook post taken on September 8, 2020
The same photo was also shared on Facebook here, here, here and here, with users praising the pair's youthful appearances. 
But the posts are misleading. A reverse image search showed an article published on the website of British newspaper Daily Mail on June 21,  2012, with the headline: "Never too old for leggings! Cher defies her 66 years as she steps out in skintight pants". 
The photo caption reads: "Good genes: It is obvious Cher gets her youthful looks from her mother, Georgia Holt, 86 after she posted a picture of them before they met Barack Obama earlier this month."
Screenshot of the Daily Mail article, taken on September 10, 2020
The image was among a set tweeted by Cher on June 7, 2012, before she met Obama with a friend and family.
http://t.co/zBdflcbd http://t.co/7kBtvyQu http://t.co/gBBw0MwR http://t.co/epG6U82e B4 these pics.Chaos!
Such Fun

— Cher (@cher) June 7, 2012
Cher regularly tweets about Holt and four years ago, she posted this image and said: "This is what 70 & 90 looks like in my family… Mom has NO MAKE UP ON".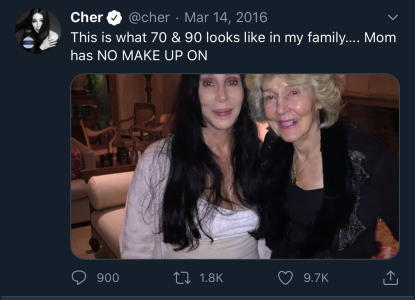 Screenshot of Cher's Twitter post, taken on September 10, 2020
A more recent post on Cher's twitter account, from December 11, 2018, showed a photo of Holt at the age of 92.
Screenshot of Cher's Twitter post, taken on September 10, 2020