No, these pictures do not show scenes from the Ethiopian Airlines plane crash
Images purporting to show scenes onboard an Ethiopian Airlines plane just before it crashed and others allegedly showing the wreckage after the crash are old pictures that have been re-posted on social networks. They do not show scenes of the March 10, 2019 crash near Addis Ababa.
On March 10, 2019, an Ethiopian Airlines Boeing 737 MAX 8 came down six minutes into its flight to Nairobi from the Ethiopian capital Addis Ababa, killing all 157 people on board. Here is an AFP story about the crash.
Multiple posts shared hundreds of times on Facebook, for example here and here, on Twitter, for example here and here, with 900 retweets, and on Instagram, for example here, contain a photo of a crashed plane's tail surrounded by a crowd of people.
The same picture also appears in online articles about the Ethiopian Airlines crash, for example here, here, and here on the French-language website dakarposte.com.
This Facebook post, which was shared more than 300 times after it was published on March 10, 2019, contains a photo of an Ethiopian Airlines plane on a runway alongside the misleading photo of the tail wreckage.
The caption says, in French: "A Boeing 737 of the Ethiopian Airlines company crashed Sunday morning while it was going between Addis Ababa in #Ethiopia and Nairobi in #Kenya, with 149 passengers of 33 different nationalities and 8 crew members on board. According to an airline spokesman, there are no survivors."
Below is a screenshot of the misleading post:
Screenshot taken on March 11, 2019, claiming to show the crash of ET302
A reverse image search shows the wreckage was not from the Ethiopian Airlines crash, but from an Indonesian military plane crash in 2015.
The original picture was published by international news agency Reuters here on June 30, 15 with the caption:
"Security forces and rescue teams examine the wreckage of an Indonesian military C-130 Hercules transport plane after it crashed into a residential area in the North Sumatra city of Medan, Indonesia, June 30, 2015."
Here is an AFP report on that Indonesian plane crash, which killed 142 people.
Below is a screenshot of the original image as it appears on the Reuters picture site:
Screenshot taken on March 11, 2019, showing the original crash, which was not from ET302
A video shared on Facebook, and seen more than 600,000 times, claimed to show the final moments passengers on board the same flight from Addis Ababa, Ethiopia, to Nairobi Kenya. But that footage was first posted online in May 2016.
One post of the video, hours after the crash, was shared more than 1,800 times and viewed over 638,000 times. The caption, in French, read:  "This is the state of mind of passengers before the crash of Ethiopian Airlines".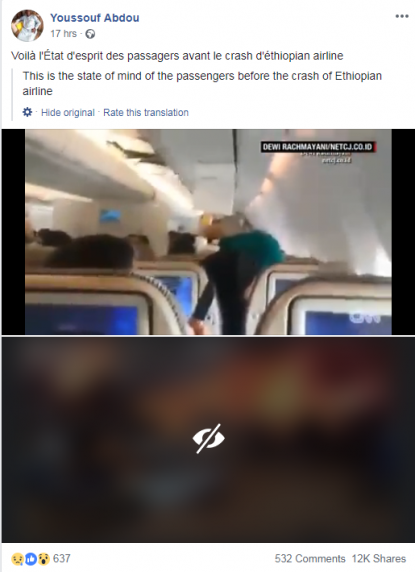 Screenshot taken March 11, 2019, showing a video claimed to be ET302 crash
Passengers in the video are heard chanting "Allah Akbar" as the plane jolts in heavy turbulence. Some are seen raising their hands in prayer, while others sit in the brace position.
Another post of the same video, shared nearly 1,000 times, claimed the image was "the last moment of Ethiopian flight before it crashed"
Using the video verification tool INVID and Google reverse image search, AFP found the same video first posted on an Indonesian citizen journalist platform, NET CJ, as credited by 112.au on May 5, 2016.
It was also published on CNN, with a description of turbulence on an Etihad Airways flight from Abu Dhabi to Jakarta in May 2016, recorded by passenger Dewi Rachmayani.
 
The Ethiopian Airlines crash affected travellers from at least 30 countries, with the biggest casualties from Kenya, Canada, and Ethiopia.
Accident Bulletin no. 3
Issued on March 10, 2019 at 4:59 PM pic.twitter.com/5UOxsbl24f

— Ethiopian Airlines (@flyethiopian) 10 March 2019