No, these photos do not show huge rallies backing the Indonesian president's re-election bid
Several Facebook posts -- which have been shared thousands of times -- feature images they claim depict large rallies held to support Indonesian president Joko Widodo's 2019 re-election bid. They were actually taken when Widodo first ran for the country's top job in 2014 or when he attended an event linked to the Indonesia-hosted Asian Games in 2018.
One of the posts was this entry, which has been shared more than 1,900 times since it appeared on Facebook on January 5, 2019.
The translated caption reads: "God has willed it and no one can argue. Sulawesi people are flocking to the streets to support Mr. Jokowi in his re-election bid. Hopefully, he will win the election and enter his second term without trouble."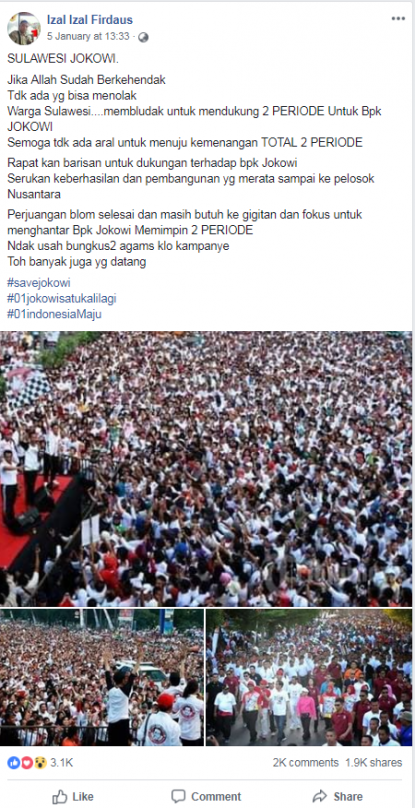 Screenshot of the misleading post.
Indonesia holds presidential elections in April that pit Widodo, popularly known as Jokowi, against Prabowo Subianto, a former military general who lost to Jokowi in the 2014 election.
Using a Google Reverse Image search, AFP found that the images do not show a re-election campaign rally on Sulawesi island, as claimed in the post.
The main and second photos were taken from an article in Indonesia's Tribunnews.com which was dated May 11, 2014, and titled "JOKOWI joins a healthy walk event attended by thousands of Makassar citizens."
The two photos have an identical caption which translates as: "Presidential candidate endorsed by the Indonesian Democratic Party of Struggle, Joko Widodo, commences the 'Healthy Walk With The People' event at Sudirman street, Makassar, South Sulawesi, Sunday, May 11. The event was organised by the Team  of  Friends of  Eastern Indonesians and was joined by around 350,000 participants."
The third photo was taken from this July 29, 2018 article by Gosulsel.com, showing Widodo at a  similar event in Makassar -- this one was in connection with the Asian Games.
The article, when translated to English, states: "(The) healthy walk event was joined by hundreds of thousands of Makassar citizens and was held as part of the promotion of the massive Asian Games event, which starts on August 18, 2018."