No, these are not photos of the same woman after three different mass shootings in America
A photo collage has been shared in multiple posts on Facebook and Twitter which claim that it shows the same woman after three separate US mass shootings. The claim is false; the three photographs in the collage do not show the same woman. 
The text above the composite image in this June 1, 2019, Facebook post states: "Just so you know not only was she a mom of the California and Orlando shootings, but she was a victim of the Las Vegas shooting too!!" 
Below is a screenshot of the misleading Facebook post: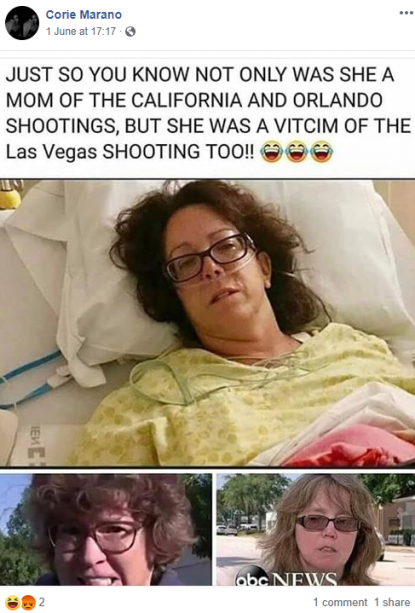 The US state of California has reported multiple deadly shootings over the years; it is unclear which one the post is referring to.
A gunman killed 49 people in a shooting inside a gay nightclub in Orlando, Florida, on June 12, 2016. Here is an AFP story about the incident. 
On October 1, 2017, 58 people were gunned down during a mass shooting at a music festival on the Las Vegas Strip. Here is an AFP story about the incident. 
The same claim was shared here by another Australia-based Facebook user, and the same images and similar claims were also shared in older tweets, for example here and here.
The claim is false; the photographs in the photo collage actually show three different women.
A reverse image search on Google found the top image in the photo collage shows a woman named Jan Lambourne. A video interview with her is included in this October 3, 2017, report by Canadian broadcaster CBC.
The CBC report states Lambourne, who is from Teulon, a town north of Winnipeg, Manitoba, "was shot in abdomen, damaging her intestines and shattering her pelvic bone" during the 2017 Las Vegas shooting.
Another reverse image search found the woman at the bottom left corner of the photo collage is named Susan Schmidt-Orfanos. She was interviewed in this BBC report dated November 9, 2018, about her son Telemachus Orfanos, who survived the Las Vegas shooting in 2017 but was killed in a separate shooting in Thousand Oaks, California, in the subsequent year.
The Thousand Oaks mass shooting killed 13 people, including the attacker, on November 7, 2018. Here is an AFP report about the incident, which also quotes from Schmidt-Orfanos.
The woman at the bottom right is named Christine Leinonen, who was interviewed by ABC News on June 13, 2016, after losing her son in the Orlando shooting.
Below is a comparison of the photos of the women included in the misleading post (L) and their images published by various broadcasters (R):