No, these are doctored images of Time magazine covers
A claim that Ethiopian Prime Minister Abiy Ahmed was named Time magazine's Person of the Year has been shared hundreds of times on Facebook. But this is false; although he was nominated in 2019, Abiy did not win the title or appear on the cover.
A Facebook post from November 2018, which we've archived here, features a picture of Abiy on the cover of Time's annual Person of the Year edition. 
Although the Ethiopian leader was listed among Time's 100 most influential people in 2019, he did not appear on the list for 2018 when the false post was published on Facebook.
Screenshot of Facebook post, taken on 18 February 2020
Another Facebook post from April 2019 (archived here) also uses a photo of Ahmed on what appears to be another cover of Time. The edition purports to feature "The 100 Most Influential People", including a profile of "Mechelle Obama" written by "Beyounce Knowles" (sic). 
Screenshot of doctored front page
A third Facebook post with more than 700 shares, archived here, again uses what looks like a Time cover page featuring Ahmed, with a caption written in upper-case stating: "THE TIME MAGAZINE NOMINATES OUR PRIME MINISTER DR. ABIY AS THE PERSON OF THE YEAR."
These claims are all misleading because, although Ahmed was nominated for Time's Person of the Year in 2019, the accolade went to Swedish teenage environmental activist, Greta Thunberg.
The previous year, the magazine awarded the title to a group of journalists including murdered Saudi dissident Jamal Khashoggi.
Manipulated covers
The front pages published in the posts were all doctored.
Below is a screenshot comparison of a fake front page, right, and the actual cover from the 2019 Person of the Year edition featuring Thunberg.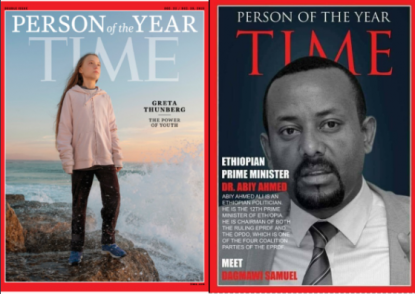 Screenshot of Time Person of the Year 2019 Issue (Left) Screenshot of doctored front page of the Time (Right)
Noticeable details missing from the doctored image include the dateline and website address within the red border of the real edition.
A Google reverse image search found that the picture of Ahmed originates from a Reuters article published on March 28, 2018.
Thunberg's cover photo was taken by Russian photographer Evgenia Arbugaeva. More details on the shoot can be found in this Time article, published on December 11, 2019.
A list of the last 25 Person of the Year winners can be found here.
The Ethiopian prime minister was elected in April 2018. Since his election, the 43-years-old leader has made peace with neighbouring country Eritrea, opening borders that remained closed for over a decade.
This major turnaround led him to win the Nobel Peace Prize in December 2019.