No, religion was not the motive for this 2018 Ontario shooting
A meme claims that a shooting that left four men injured in Pickering, Ontario in 2018, was carried out in retaliation for a local festival's use of pork during Ramadan. No mention of religion as a motive was made in the aftermath of the shooting, and the inspector in charge of the investigation told AFP the post is false.
According to a meme published on Facebook, "Islamist's Attack Pickering Rib Fest for Serving Pork During Ramadan." The posts also claims that threats were made against the Ribest "for allowing pork, which is forbidden in Islam, to be served during Ramadan."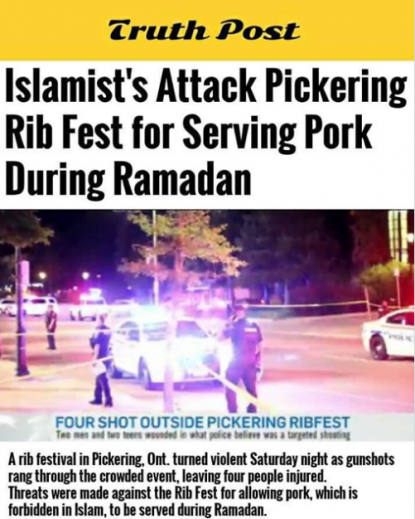 Screenshot of a Facebook post taken on June 11, 2019
The meme was shared by two large Canadian Facebook pages, BC Patriots, as well as United Conservative Movement of Canada, which has more than 58,000 followers.
The post refers to a real event, a shooting that took place on June 3, 2018, at Ribfest, a weekend-long festival in the Ontario town of Pickering, near Toronto, which brings together up to 80,000 attendants for festivities centered around barbecues and meat. A local man shot four people on the premises of the event, injuring but not killing them.
Four people went to hospital with non-life threatening injuries after shots were fired last night at the Pickering Ribfest. Call us if you have info. https://t.co/YtWzq9ulae

— Durham Regional Police (@DRPS) June 3, 2018
Media reports and the Durham Regional Police made no mention of a potential religious motive for the attack. Here is a local report after a man was arrested for the shooting.
Brian Debosky, detective for the Durham Regional Police in charge of the case, told AFP, "The suggestion that the shooting was related to terrorism is false."
Debovsky added that the accused, a 20-year old from the nearby town of Ajax, is "known to the Durham Regional Police and was involved in a dispute with another group of people. The victims in the shooting were innocent people caught in the crossfire."
The trial of the accused shooter is still ongoing in the Ontario Court of Justice. AFP was able to look at the court file, which is under a publication ban. It does not contain any reference to either religion or terrorism.