No, this post does not show a man in India holding the head of a murdered politician
A Facebook post claims to show a photo of a Hindu man in southern India carrying the severed head of a Muslim politician who he murdered in revenge for a rape. The photo is from a crime elsewhere that police said had nothing do with the Muslim politician.
A photo of a man carrying a severed head was posted on Facebook on October 3. The image has a caption in Hindi that reads, "Karnataka Congress leader Rafiq Ali raped a Hindu woman, Neelam Rabidasiya. Her brother decapitated the Congressman and took his head to the police station. Does this Hindu deserves a punishment?"
The post was shared around 250 times in a Facebook group called "War Against Paid Media" and also in other Facebook groups. Comments included "The man did not deserve a punishment" and "He deserves a reward for this."
Below is a snapshot of the text of the false post. AFP has chosen not to display the image in the false post due to its graphic nature. 
Snapshot of the text in the misleading post
An archived version of the post is also available here. Warning, clicking on the link will show the graphic image
An AFP investigation found the photo originated from a previous crime that had nothing to do with Ali.
The original photo can be seen in media reports of the crime elsewhere in Karnataka state on September 29, four days before the misleading post went on Facebook.
The reports can be seen here, here and here. Warning, the reports carry graphic content.
The chief of the police district where the crime occurred,  Shiva Prakash Devraju, told AFP by phone the murder occurred in the town of Malavalli, where a Hindu man killed and decapitated another Hindu man in a personal feud. 
"There is no communal [inter-religious] angle to the murder case. Both of them were Hindus, and no one was raped prior to the murder," Devraju said by phone.
Devraju said the alleged murderer was a man named Pashupathi and the victim was named Girisha. 
He added that the photo was taken by a local journalist in the Malavalli police station.
Below is a copy of a police charge sheet that Devraju sent to AFP via Whatsapp of the crime, which includes the names and details of the beheading murder. It lists Pashupathi as the accused and Girisha as "fatal", or victim.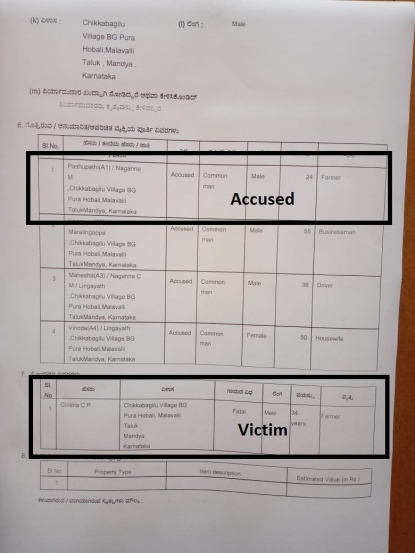 Snapshot of the police report