No, this photo shows a music festival in Germany in 2003
An image has been shared hundreds of times in multiple posts on Facebook alongside a claim it shows millions of people protesting against coronavirus restrictions in the German capital of Berlin in August 2020. The claim is false; the image shows a music festival in Berlin in 2003.
The image was published in this Facebook post on August 30, 2020.
The German text overlay on the image translates to English as: "4 million people in Berlin!!!"
The post reads in part: "WAY TO GO BERLIN!!! 4 million people protested against - CV scam, masks, governments breaking all Geneva conventions, vax, lockdowns, 5G and more in Berlin yesterday!!"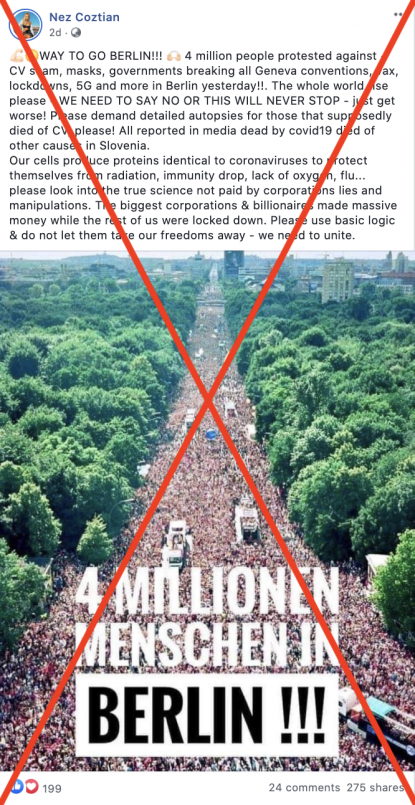 A screenshot of the misleading Facebook post taken on August 31, 2020.
The posts circulated online just one day after thousands gathered in Berlin to protest against coronavirus restrictions on August 31, 2020. Some 18,000 people gathered at Berlin Brandenburg Gate, before the rally was forced to stop due to a police injunction because many were not respecting social distancing measures, as reported here by AFP.
The image was also shared here and here on Facebook in August 2020. It also circulated in Facebook posts in Spanish and Portuguese, alongside a similar claim. 
The claim, however, is false; the photo was taken in 2003.
A reverse image search on Google found an identical photo published here on the website for the Nineties Berlin museum. The article describes an exhibit commemorating the 30th anniversary of Love Parade, a music festival hosted in Berlin.
The photo, dated 2003, is credited to Matthias Roeingh, a German DJ also known as Dr. Motte. The photo was published with the same attribution on Motte's personal blog here.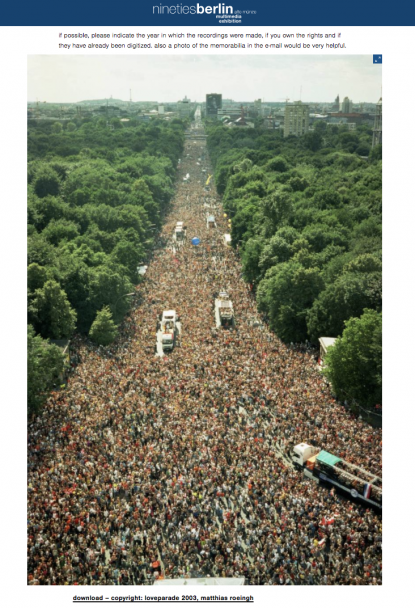 A screenshot of the Nineties Berlin website, as of September 1, 2020.
Below is a screenshot comparison of the image in the misleading post (L) and the photo on the Nineties Berlin website (R):
According to this article by German newspaper Der Tagesspiegel published on July 13, 2003, police estimated at least 500,000 people attended the Love Parade music festival that year in Berlin.