No, this photo does not show Philippine fishing boats being 'bombed' by a water cannon in the South China Sea
A photo of a ship spraying two smaller vessels with water has been shared thousands of times on Facebook alongside text that refers to Philippine fishermen being "bombed with water cannons" in the disputed South China Sea. The image is being used in a misleading context; it actually shows Taiwanese activists being sprayed by a Japanese coast guard ship.
This Facebook post, dated June 19, 2019, contains a photo that shows a large vessel spraying two small boats with water. 
The post has been shared more than 3,300 times. Its caption, translated to English from Tagalog, says:
"The fishermen were being bombed with water cannons in 2014 at Panatag shoal but this was not given priority by the biased media. DU30 also did not do anything because he was the mayor of Davao then and what's bad is that Noynoy 'Abnoy' Aquino did not do anything but pick his nose there in Malacanang. Yuuccck!"
Below is a screenshot of the post:
Screenshot of Facebook post
"Panatag shoal" is the Philippine name for Scarborough shoal, a disputed territory in the South China Sea which has been under Chinese control since 2012. 
Facebook posts combining the same photo with a similar claim were published here and here in 2014, the year when the Philippines accused the Chinese coast guard of firing water cannon at Filipino fishermen in Scarborough shoal.
Here is an AFP report on the 2014 incident in Scarborough shoal. 
The misleading post also references Benigno "Noynoy" Aquino, who was Philippine president from 2010- 2016. Here is his Encyclopedia Britannica biography.
The Facebook post calls him "Noynoy 'Abnoy' Aquino". "Abnoy" means "abnormal" in English.
"DU30" refers to current Philippine President Rodrigo Duterte. He served as mayor of the southern city of Davao for more than two decades before being elected president in 2016. 
The photo was recirculated with the same claim elsewhere on Facebook on June 19, 2019, for example in this post which has been shared more than 6,600 times.
These posts appeared a week after a Chinese trawler sunk a Filipino fishing boat in Reed Bank, a part of the South China Sea which is claimed by Manila and Beijing. 
Here is an AFP report on the sinking, dated June 13, 2019.
A reverse search using Google traced the photo in the misleading post back to this image on the website of international news agency Reuters.
The photo in the misleading post is the second in a slideshow published in 2013.
Below is a screenshot of the image in the slideshow: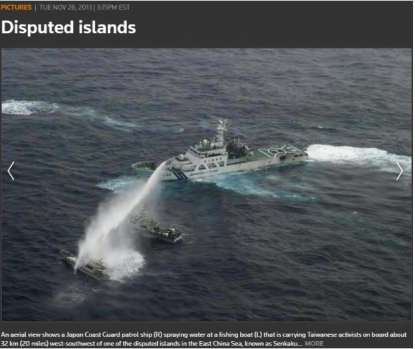 Screenshot of image
The caption of the photo says:  "An aerial view shows a Japan Coast Guard patrol ship (R) spraying water at a fishing boat (L) that is carrying Taiwanese activists on board about 32 km (20 miles) west-southwest of one of the disputed islands in the East China Sea, known as Senkaku in Japan, Diaoyu in China and Tiaoyutai in Taiwan, in the East China Sea, in this picture released by the Japan Coast Guard's 11th Regional Coast Guard headquarters January 24, 2013."
Taiwanese activists tried to go to East China Sea islands in January 2013 but were prevented by the Japanese Coast guard. Here is AFP's report on the incident. 
Below is a comparison of the photo in the misleading post (L) with the Reuters photo (R):
Screenshot of images
AFP has previously fact-checked a similar claim here.