No, this photo does not show Indian opposition politicians dodging overhead cables in the city of Varanasi during 2014 elections
A photo has been shared hundreds of times in multiple Facebook and Twitter posts that claim it shows Indian opposition politicians Rahul Gandhi and Akhilesh Yadav trying to avoid electric wires in the city of Varanasi on a campaign visit during the 2014 elections. The claim is false; the photo was taken in 2017 in a different city, Lucknow.
The photo, which shows Gandhi and Yadav ducking while men in black suits use sticks to clear the way, appears in this Facebook post alongside two other photos of Indian city streets.
The post was published May 2, 2019, and has been shared more than 550 times. Its Hindi-language caption translates to English as:
"In the last elections Rahul Gandhi and Akhilesh Yadav came to campaign in Varanasi and got stuck in their own development. Modi has made their overground electric wires vanish from Varanasi.
"#LokSabha #Varanasi #2K19 #Elections #CountryTalk #NarendraModi #RahulGandhi #AkhileshYadav".
Yadav is the leader of the Samajwadi Party, which ran against Indian Prime Minister Narendra Modi's Bharatiya Janata Party (BJP) in 2019 elections. Here is Yadav's verified Twitter profile and here is Modi's.
Rahul Gandhi is the president of Congress, India's main opposition party. Here is his website. Varanasi is a city in the northern Indian state of Uttar Pradesh.
Below is a screenshot of one of the misleading posts: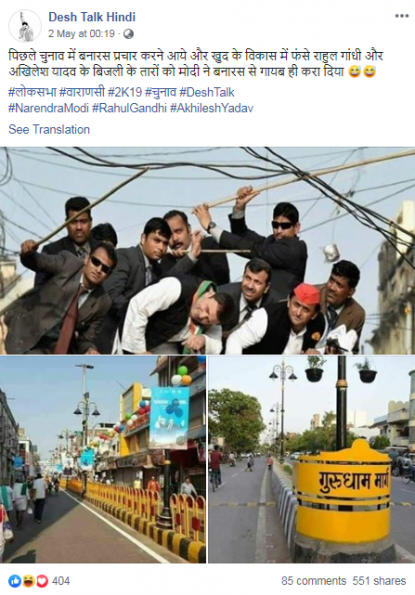 Screenshot of the misleading Facebook post
The claim has been shared alongside the same three photos elsewhere on Facebook, for example here and here, and on Twitter with just the photo of Yadav and Gandhi for example here.
The misleading posts were published during India's 2019 election, which ended on May 19. Here is the Indian Election Commission's results website and here is an AFP report on Modi's landslide win.
India's "last elections" took place in 2014. Here is an Election Commision page that contains documents relating to those polls.
The photo of Yadav and Gandhi was not taken in Varanasi in 2014; it was actually taken in 2017 in Lucknow, another city about 260 kilometres (160 miles) away.
A Google reverse image search of the photo found this report dated January 30, 2017 on the website of Indian newspaper Deccan Chronicle.
The article's photo caption states: "UP Chief Minister Akhilesh Yadav and Congress vice-president Rahul Gandhi duck to avoid hanging cables during a road show in Lucknow on Sunday. (Photo: PTI)". The Press Trust of India, or PTI, is an Indian news agency.
Below is a screenshot comparison of the photo in the misleading Facebook post (L) and the original image on Deccan Chronicle's website (R) :
Screenshot comparison of the photo in the misleading Facebook post (L) and the original image on Deccan Chronicle's website (R)
The article states Yadav and Gandhi held a joint press conference in Lucknow before the 2017 Uttar Pradesh Legislative Assembly elections. Here are the results of those local polls.
The same photo was also published by the newspaper Indian Express in this January 31, 2017 report. It states Rahul Gandhi and Akhilesh Yadav were trolled about the photo on social media.
The other two photos included in some of the misleading posts were taken in Varanasi, but the posts offered no evidence that they were connected to the photo of Gandhi and Yadav.
Both of the photos appeared in this tweet dated April 30, 2018, about development in the city. The tweet is embedded below:
Those who says no development is taken place during last four years, see these pics send by one of my friend from Varanasi & know the ground reality. Thanks to our dear PM @narendramodi ji #MannKiBaat #JanAakroshRally @BJP4India @INCIndia @AmitShah @sudhirchaudhary @repubIicTv pic.twitter.com/DaTeX9wAgj

— दलीप दत्ता 🇮🇳 (@dalipdutta) April 30, 2018