No, the Philippine police have not received 200 new cars from China
A widely shared Facebook post claims that China has delivered 200 new police cars to the Philippines. The image used in the post shows vehicles in Japan. Philippine police told AFP the claim is false.
The November 11 post shows two rows of police cars, which it claims Philippine President Rodrigo Duterte ordered from China.
Here is a screenshot of the post, which had been shared more than 1,000 times in the three days since it was posted: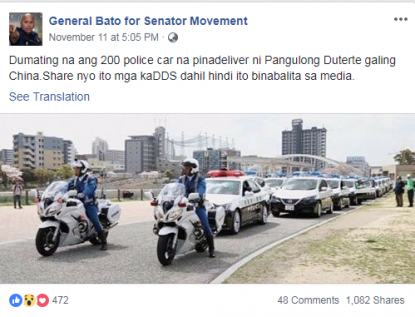 Screenshot of misleading Facebook post
When translated to English, the post says: "Some 200 police cars that President Duterte asked to be delivered from China have now arrived. Share this DDS because this is not being reported on by the media."
DDS refers to Diehard Duterte supporters.
A reverse image search traced the photo back to a video on the official YouTube channel of Japanese automaker Nissan. The image in the post comes at 1:31 of the video.
The video shows a ceremony in the southwestern Japanese city of Fukuoka, where officials unveiled Nissan Leaf cars for use in a public safety programme.
The description in Japanese below the video says: "The Fukuoka Prefecture Traffic Safety Association decided to use a total of 22 Nissan Leaf cars, which is a new model, as a vehicle (known as 'blue patrol') to promote and raise awareness of crime prevention in the districts of Fukuoka prefecture."
"The blue patrol departure ceremony, hosted by the association, was held on April 3 as the spring traffic safety campaign kicked off," it said.
When asked whether 200 new police vehicles had arrived in the country from China, Philippine police spokesman Benigno Durana told an AFP reporter: "Not true".
The post has been shared over 800 times by a Facebook account supporting the former Philippine National Police chief Ronald dela Rosa, who is now running in senate elections.
Dela Rosa was a key figure in Duterte's deadly drug war, which has killed thousands of alleged drug dealers and users in the Philippines.
(Snapshot of Crowdtangle data)