No, this is not a photo of Pakistani Christian woman Asia Bibi meeting Pope Francis
Posts that claim to show Asia Bibi, a Pakistani Christian woman who was acquitted of blasphemy, meeting Pope Francis after her release from jail are circulating on Whatsapp groups and social media sites. The posts are false, as they misleadingly use a photograph of Bibi's daughter meeting the pontiff in February, 2018.
The photo shows a woman with long brown hair kissing the Pope.
In multiple Facebook posts a caption accompanying the image reads: "Today Asia Bibi welcome by Holy pope Francis at vitican.(Breaking news) Shame on GOVERNMENT OF PAKISTAN." 
Here is an archived version of one of the posts.
Below is a snapshot from the post.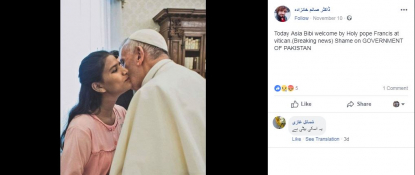 Snapshot of false Facebook post
The image has also circulated on Whatsapp. Below is a snapshot of a Whatsapp message that was sent on November 13, 2018.
Snapshot of a Whatsapp group
It has also circulated on Twitter.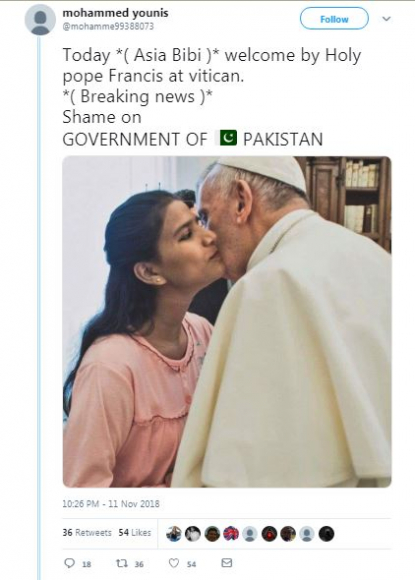 Snapshot of fake tweet
The misleading photo is not of Bibi. It is from a meeting of her daughter and husband with the Pope at the Vatican in February 2018.
A photograph of the February meeting that was released by the Vatican shortly afterwards  shows the same scene as in the misleading posts.
In both the photograph carried in an article  by the Vatican News and the misleading posts, Bibi's daughter is wearing the same clothes and is in the same room.
The caption of the photo in the Vatican News article reads: "Pope Francis with Asia Bibi's husband and daughter to his right, at a meeting in the Vatican on 24 February, 2018." 
Below is a snapshot of the photo from that article. It shows Bibi's daughter wearing the same shirt as in the misleading posts' image. It also shows the same bookshelf behind her. 
Snapshot of the photo of Asia Bibi's daughter and others with Pope Francis
Bibi was convicted of blasphemy and sentenced to death in 2010 after a local imam claimed she had insulted the Prophet Mohammed. She denied the charges.
Pakistan's Supreme Court on October 31 overturned Bibi's conviction 
Her location following her release is unknown. Here  is an AFP story after she was freed.
Hardline Islamists are demanding Bibi's immediate execution and say she should not be allowed to leave Pakistan.
The Pakistan government has repeatedly denied reports that Bibi has left the country.
Pakistani Information Minister Fawad Chaudhary posted a tweet on November 8 urging for an end to fake news about the Bibi case.
It has become a norm to publish fake news for sake of headlines, #AsiaBibi case is sensitive issue it was extremely irresponsible to publish news of her leaving the country without confirmation, I strongly urge section of media to act responsible

— Ch Fawad Hussain (@fawadchaudhry) November 8, 2018