No, this is not a photo of a Kashmiri woman beaten by the Indian Army
Multiple Facebook posts have shared an image of a woman with bruises on her face alongside a claim that she was badly beaten by the Indian army in Kashmir. The photo actually shows Neelam Gul, a famous Pashtun singer and actress, who has accused her husband of causing the injuries in a domestic violence incident.
The misleading posts, for example here and here, have been shared more than 8,000 times on Facebook since they were posted in early December.
The posts claim that the woman in the photograph is from Shopian district in Indian-administered Kashmir and say she was beaten badly by the Indian army.
Screenshot of misleading Facebook post
One of the posts has a caption that says: "My mom was injured by the Indian Army in Srinagar, Kashmir. Is there anyone to help us? India please leave Kashmir for life."
Another caption says: "Kashmir women from Shopian South Kashmir was beaten during CASO by Indian occupation army and SOG, shame India shame."
CASO is a reference to cordon and search operations and SOG refers to the Special Operations Group, an elite police unit.
A reverse image search found that the photo is of Neelam Gul, a Pakistani singer and actress who is ethnic Pashtun.
In a 23-minute video posted on her Facebook page on August 2, 2018, Gul accused her husband of domestic violence.
Her Facebook page, which is not verified, has more than 400,000 followers. 
Neelam also filed a police complaint August 2 at a police station in the north-western city of Mardan in Pakistan, where her husband was charged under section 354 of Pakistan Penal Code, which covers assaults on women.
Here is a screenshot of the police complaint:
Screenshot of police complaint
On August 3, 2018, she lodged another police complaint alleging that her brothers-in-law came to her house and threatened her with guns. Police charged them under sections 506 and 452 of the Pakistan Penal Code, which cover trespass, threats and intimidation.
Here is a screenshot of the police complaint: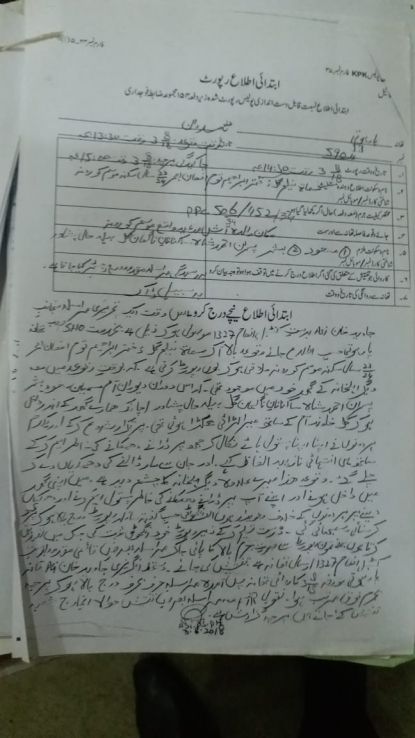 Screenshot of police complaint
Pakistani media also reported widely on the incident at the time, for example here in The News and here on 24 News HD television.