No, this is not a photo of Indonesia's president sitting in public without a security detail
A Facebook post shares a photo it claims shows Indonesian president Joko Widodo chatting with people in public without security protection. The image is of Widodo, but it was taken about two years before he became president.
The photo -- posted to Facebook on November 8, 2018 -- shows Widodo wearing a traditional batik shirt chatting with a group of people, mostly women, while sitting under a tree.
The post has about 1,100 reactions and 63 shares.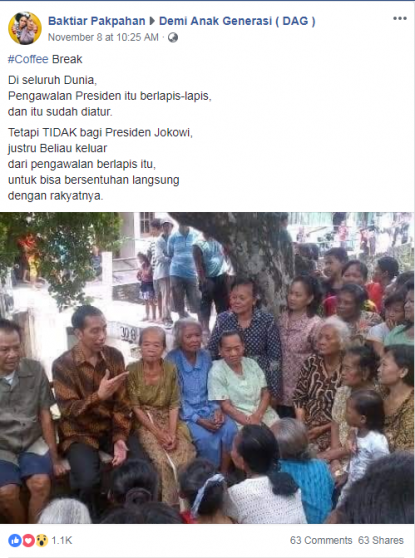 Snapshot of the misleading post.
The photo caption says: "All over the world, presidents are required to have multi-layered protection. However, this is not the case for President Jokowi. He refuses this protection so he can get to know his people directly."
Widodo's popular nickname is Jokowi.
The man in the batik shirt is Jokowi, but he was not president when it was taken.
A reverse image search found the picture was published on March 21, 2012 by detik.com, a popular Indonesian news website.
Snapshot of the 2012 Detik article containing the original photo
The article describes how Jokowi, then mayor of Solo, was speaking with city residents to announce his plan to seek the Jakarta governor job later that year.
Jokowi won the Jakarta election and then successfully ran for president in 2014.