No, Justin Trudeau did not take a selfie next to a burning Canadian flag
A widely shared photo depicts Canadian Prime Minister Justin Trudeau smiling while posing in front of a burning Canadian flag. The image is a montage of two photos, one from a 2010 protest in Toronto, and another from Trudeau's visit to a relative's gravestone in November 2018 in Singapore.
"This is a photo of the Prime Minister laughing and taking his own picture while burning a CANADIAN FLAG," claims one Facebook post shared nearly 4,000 times since late December. In the photo, an enthusiastic Trudeau is taking a selfie while crouching next to a burning Canadian flag held by a person dressed in black.
Screenshot taken on January 7, 2019 of a Facebook post
The photo is a montage made from two distinct pictures, one which was shared on Twitter in November 2018.
While on an official trip in Singapore, the social media-friendly prime minister posed for a selfie in front of his fourth-great-grandmother's gravestone. CTV news reporter Kevin Gallagher posted the photo on Twitter on November 15.
Prime Minister @justinpjtrudeau took a selfie in front of the gravestone of his 4th-Great Grandmother. The daughter of William Farquhar, the first Resident and Commandant of Singapore. He promised his son Xavier he would do it. #cdnpoli #ASEAN pic.twitter.com/Nz0GYLBTYq

— Kevin Gallagher (@KGallagherCTV) November 15, 2018
The photo was then posted to the "politically incorrect" section of 4chan, an online forum, where it was cropped, flipped, and juxtaposed on several photos.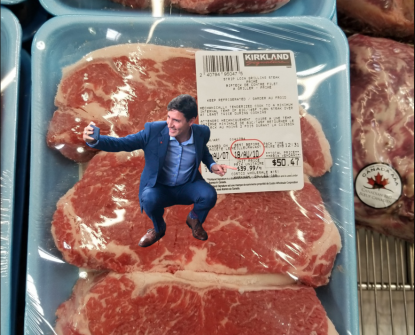 Screenshot taken on January 7, 2019 of an archived 4chan post
While most of the resulting images were clearly fabricated and trivial in their tone, some were more realistic, such as the one with the burning flag which was later presented as real content on Facebook.
The burning flag photo was taken at an anti-G20 protest in Toronto in July 2010. It was posted by Tami Starlight to the Vancouver Media Co-Op.