No, Indonesia's largest Muslim group did not declare its support for Prabowo Subianto in this video
Several Facebook posts shared thousands of times have a video purportedly showing the head of Nahdlatul Ulama (NU), Indonesia's largest Muslim organisation, declaring the group's support for presidential candidate Prabowo Subianto and his running mate, Sandiaga Uno, in 2019 elections. The group's chairman offers no such support in the video. Two senior officials from the organisation told AFP that it does not support any candidate or political party in the April polls and is barred from doing so by internal rules.
Subianto is the sole challenger against incumbent Joko Widodo in the elections.
The video began appearing on Facebook in December 2018 in posts such as this one, which was shared more than 8,000 times in the following month. 
Screenshot of misleading Facebook post
The video shows both Subianto and Uno chatting with NU chairman Said Aqil Siradj. At 2 minutes 30 seconds of the video, a banner apears that translates in English to: "Finally, NU supports Prabowo". 
Below is a screenshot of 2:30 moment in the video.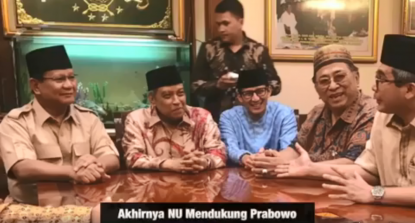 Screenshot of 2:30 clip showing this banner
An English translation of the first line in the text above the video in the post also says: "Aqil Siraj finally understands the state of this nation. PB NU finally supports Prabowo-Sandi."
A December 6 post, which also shared the video, has the translated caption: "Surprising...Finally, PB NU officially declares its support for Prabowo-Sandi".
NU is an influential organisation that claims tens of millions of members in the world's biggest Muslim majority country.
But NU's chairman says nothing in the video about his organisation supporting the Subianto-Uno ticket. Nor does he declare personal support for Subianto.
The video, which is 2 minutes, 53 seconds long, shows an edited series of clips and images from that meeting.
At 0:11 of the video, Siradj says: "Today I am happy to have hosted my visitors, Mr Prabowo and Mr Sandiaga Uno, for a meeting in which they say they want to strengthen their relationship with (NU)".
Throughout the rest of the video there is no statement made by Siradj that that either he personally, or his group, had decided to support Subianto.
Two senior NU officials told AFP the support claims circulating on Facebook were false.
"NU does not support any of the candidates," its deputy secretary-general, Imam Pitudu, told AFP by WhatsApp.
NU board member Masdar Farid Mas'udi added that it was "impossible" for the group to declare its support for any politician's electoral bid.
"NU policy prohibits the organisation from declaring electoral support for any particular person or political party," he told AFP via WhatsApp.