No, an Indian politician did not win an election by a single vote
A photograph posted to Facebook purports to show official election results in a central Indian state with the winning candidate from India's Congress Party clinching victory by just one vote. The photograph is misleading -- the election commission's final tally showed the winning candidate from India's ruling Bharatiya Janata Party won by 511 votes.
The photograph, which has been shared hundreds of times since it was posted to Facebook December 12, is a screenshot of an official vote tally for candidates in the Jaora constituency in the central Indian state of Madhya Pradesh in recent elections.
Screenshot of misleading Facebook post
The screenshot in the misleading Facebook post shows candidate KK Sing Kalukheda of the Indian National Congress party on 61906 votes, while Rajendra Pandey 'Raju Bhaiyya' of the Bharatiya Janata Party has 61905 votes.
The post's caption says: "Here is what can happen if you don't vote, every vote counts."
The screenshot of the official website of the election commission of India in the misleading post was taken at 16:46 on 11 December, 2018 -- the time stamp can be seen at the bottom left hand side of the image.
Here is a screenshot of the misleading Facebook post with the time stamp circled in red: 
Screenshot of misleading Facebook post
The final official results were declared at 11:02 on 12 December, 2018 with the BJP's Rajendra Pandey on 64503 votes and Congress' K.K. Sing on 63992 votes.
The BJP's Rajendra Pandey won the election in the final tally by a margin of 511 votes, which was widely reported by Indian media at the time, for example here.
Here is a screenshot of the final official results from the Election Commission of India, with the time stamp circled in red: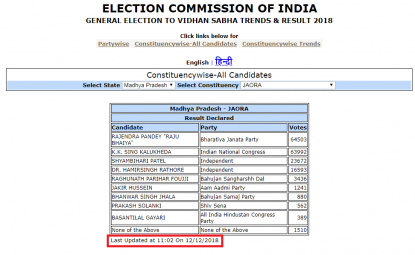 Screenshot of the final result from Election Commission website