No causal link between flu vaccines and deaths, says South Korea disease control agency
A report published in a website post and shared in multiple Facebook posts claims there has been a hundred "flu vaccine deaths" in South Korea. The report claims there is "no doubt" the flu vaccines caused the deaths because they contain thimerosal, a purportedly toxic ingredient. The claim is misleading and the posts omit important context; the Korea Disease Control and Prevention Agency (KDCA) says it has not found a causal link between flu vaccination and the deaths; experts say there is no evidence the amount of thimerosal used in flu vaccines causes harm.
The report was published on November 10, 2020 here on a website called "WEBLYF".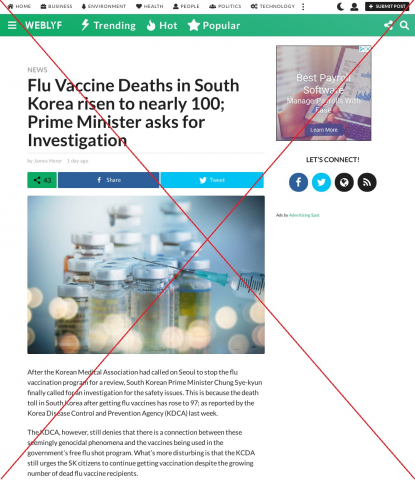 A screenshot of the misleading post, taken on November 13, 2020
The report's title reads: "Flu Vaccine Deaths in South Korea risen to nearly 100; Prime Minister asks for Investigation".
It has been shared in Facebook posts here and here. 
The WEBLYF report reads, in English: "(T)he death toll in South Korea after getting flu vaccines has rose to 97; as reported by the Korea Disease Control and Prevention Agency (KDCA) last week.
"The KDCA, however, still denies that there is a connection between these seemingly genocidal phenomena and the vaccines being used in the government's free flu shot program. What's more disturbing is that the KCDA still urges the SK citizens to continue getting vaccination despite the growing number of dead flu vaccine recipients."
This claim is misleading.
No evidence flu vaccine caused deaths
Although 101 people were reported to have died after receiving flu shots as of November 9, 2020, upon investigation 97 deaths were found unrelated to the flu vaccine, according to the KCDA; the remaining four are still being investigated. 
In this update posted November 10, 2020, the KCDA said: "Causality to vaccination has not been found… In the deaths investigated, there had been no association with anaphylaxis, a serious allergic reaction that could follow influenza vaccination."  
Moreover, this guidance released by the US Centers for Disease Control and Prevention (CDC) following reports about the deaths in South Korea maintains that flu vaccines are safe and "subject to rigorous safety standards and oversight". 
The CDC advised: "Getting a flu vaccine is more important than ever during 2020-2021 to protect people from flu, to help reduce the burden on the health care systems responding to the COVID-19 pandemic, and to save medical supplies for care of COVID-19 patients."
No evidence thimerosal causes harm
The WEBLYF report also claims flu vaccines contain a dangerous ingredient called thimerosal.
It states: "Thimerosal... is half ethylmercury by weight. Ethylmercury is a known neurotoxin… Therefore, there must be no doubt that the flu vaccine being used to the SK citizens has contributed or probably the main cause of death."
This claim is also misleading.
The amount of thimerosal in flu vaccines is small, and there has been no evidence it has caused harm with decades of use, AFP Fact Check  previously reported here.
A separate debunk here also states: "Thimerosal contains ethylmercury, which is cleared from the human body more quickly than methylmercury, the type of mercury found in certain fish."