Misleading claim circulates online that video shows Thailand's exiled former PM giving speech on economic impact of coronavirus pandemic
A video has been viewed more than two million times in multiple posts on Facebook, Twitter and YouTube alongside a claim it shows Thailand's exiled former prime minister, Thaksin Shinawatra, giving a public speech about the economic impact of the novel coronavirus pandemic. The claim is misleading; the video was filmed more than a decade ago when Shinawatra spoke about democracy in Asia at an event in 2006; in June 2020, Shinawatra was scheduled to take part in a private online discussion about the coronavirus pandemic by a financial company.
The eight-hour video, which has been viewed more than 2,400,000 times, was published here on Facebook on June 8, 2018. The footage loops eight times in the clip.
The white Thai-language text superimposed on the footage translates to English as: "Thaksin was invited to a global stage to analyse the economy post-Covid-19." 
The post's Thai-language caption reads: "Thaksin Shinawatra was invited on a world stage.
"World class! Thaksin Shinawatra was invited to a world forum to analyse the global economy and business after Covid-19."
Thaksin Shinawatra was Thailand's prime minister from 2001 to 2006. As of September 2020, he lives in exile after being ousted by a military coup in September 2006.
The same video was also shared on Facebook here; on Twitter here, and on YouTube here, with a similar claim.
The claim, however, is misleading.
A logo for the Council on Foreign Relations or CFR, a US-based think tank, can be seen in the on the blue background behind Shinawatra.
Below is a screenshot of the video at the one-second mark with CFR's logo circled in red by AFP:
A keyword search found this 59-minute 34-second video published on the verified YouTube account of the Council of Foreign Relations on May 3, 2011.
The video's caption reads: "A Conversation with Thaksin Shinawatra
"ORIGINALLY RECORDED September 18, 2006
"Watch Thai Prime Minister Thaksin Shinawatra discuss democracy in Asia."
The footage in the misleading posts can be seen in the original video from its one-minute 27-second mark.
Below is a screenshot comparison of the video in the misleading posts (L) and the CFR footage (R):
Separately, Thai media site Daily News reported here on June 8, 2020 that Thaksin Shinawatra was invited to join a June 11, 2020 roundtable discussion about the post Covid-19 world, organised by financial company invescore. The article notes, however, that the discussion was due to be an invitation-only event held over video conferencing platform Zoom.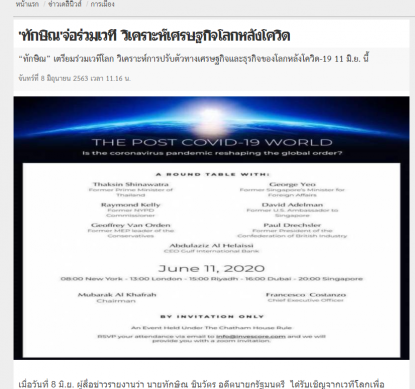 The article reads in part: "Mr. Thaksin Shinawatra, former prime minister was invited to a world stage to analyse the adaptation of the global economy and business after Covid-19. He will be giving a speech remotely, together with the former Singapore minister, former New York police commissioner, former MPs, former ambassador and the former chairman of the Confederation of British Industry on 11 June at 7pm local time." 
Pong Kunakornwong, Shinawatra's son-in-law posted this screenshot of a Zoom call featuring Shinawatra on his personal Instagram account on June 11, 2020.
The caption reads: "Watching the master. The Post Covid-19 World. A round table forum by INVESCORE."