Misleading claim circulates online that US President Trump told people to vote for Myanmar's NLD
A doctored picture of US President Donald Trump has been shared thousands of times on Facebook alongside a claim that he has just won the US presidential election and urges Myanmar to vote for the ruling National League for Democracy (NLD) in their upcoming poll. The claim is false; the image used in the misleading post is a doctored 2015 image. At the time the misleading post was published, no winner had been declared in the US election; Trump has not mentioned Myanmar nor the NLD in any tweets or official communications in recent days. 
The post was published here on Facebook on November 4, 2020, where it has been shared more than 4,400 times.
A screenshot of the misleading post
The Burmese post translates in English as: "Trump, who just won the election, told all Myanmar people to vote for NLD." 
In the picture, Trump gives a thumb-up and wears a red cap that says: "NLD".
The Burmese text on the bottom of the picture translates to English as: "NLD must win".
"NLD" refers to Myanmar's ruling party, the National League for Democracy. 
Myanmar is going to hold a general election on November 8, 2020, as AFP has reported here.
The photo was also published alongside a similar claim on Facebook here, here and here. 
However, the claim is false.
A reverse Google image search found this photo of Trump, published by Getty Images on July 30, 2015.
The caption of the picture partly reads: "Republican Presidential Candidate Donald Trump Visits His Scottish Golf Course."
Below is a screenshot comparison of the photo in the misleading post (L) and the Getty Images photo (R):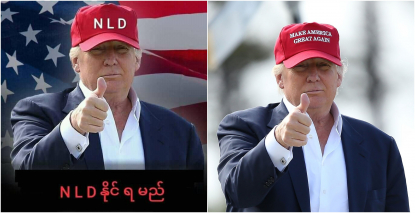 Screenshot comparison of the photo in the misleading post (L) and the Getty Images photo (R)
As of the early morning hours of November 6, 2020, the winner of the US presidential election has not been declared, as reported by CNN here and the Associated Press here. 
A search of Trump's Twitter feed and official White House statements over the past few days found no mentions about Myanmar or the NLD.