Misleading claim circulates online in October 2020 about travel ban and curfew in Sri Lanka after discovery of coronavirus cluster
Multiple posts shared hundreds of times on Facebook and WhatsApp in early October 2020 claim Sri Lanka banned all vacation and pilgrim travel until 2021 following the discovery of a new coronavirus cluster. The claim, however, is misleading; as of October 9, 2020, the government advised the public against all unnecessary travel, but did not impose a ban; in a tweet on October 5, 2020, Sri Lanka's presidential media division also denied it had imposed a nationwide curfew after the new coronavirus cluster was detected.  
The claim was published on Facebook here on October 5, 2020. 
The Sinhala-language post translates to English as: "The government has taken steps to ban all leisure and pilgrimage tours. This ban will continue until 2021".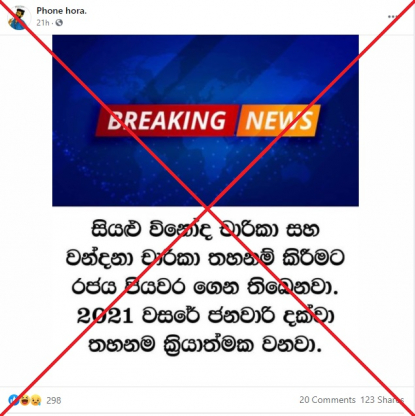 Screenshot of the Facebook post published on October 5, 2020
The claim circulated following the discovery of a cluster of new coronavirus cases among factory workers in a Sri Lankan suburb, as Sri Lankan news site Roar Media reported here on October 6, 2020. 
Similar claims about a leisure travel ban were also shared on WhatsApp and on Facebook here, here, here and here.  
The claim, however, is misleading.
Following the detection of the new coronavirus cases, the government advised the public to refrain from all unnecessary travel. As of October 9, 2020, it has not, however, announced an outright ban. 
"No one should go around unnecessarily, except for work and essential purposes," General Shavendra Silva, head of Sri Lanka's Anti-Covid task force, said on October 5, 2020, according to local media. 
General Dr. Nalaka Kaluwewa, the director of the government information department, also refuted the claim in the misleading posts.
"No such decision to ban leisure and pilgrimage travel until 2021 has been taken as of today," he told AFP by WhatsApp message on October 5.
Claims also circulated on WhatsApp that a nationwide curfew had been imposed following the discovery of the coronavirus cluster. 
The presidential media division promptly denied the claim, saying here on Twitter that no curfew has been imposed over the nation.
සමාජ මාධ්‍ය ඔස්සේ හුවමාරුවන සාවද්‍ය ප්‍රචාරවලට නොරැවටෙන්න...#PMDNews pic.twitter.com/SVX9013SfN

— PMD News (@PMDNewsGov) October 5, 2020