Misleading claim circulates online that Facebook posts show Gambian citizens supporting Myanmar's ruling party ahead of 2020 election
Multiple photos and one video have been shared thousands of times in posts on Facebook and Twitter which claim they show Gambian citizens supporting Myanmar's ruling party, the National League for Democracy (NLD), ahead of an election scheduled for November 2020. The claim is misleading; the photos and video show a factory in Kenya.
Seven photos were published alongside the misleading claim on Facebook here on September 18, 2020. The post has been shared more than 2,000 times.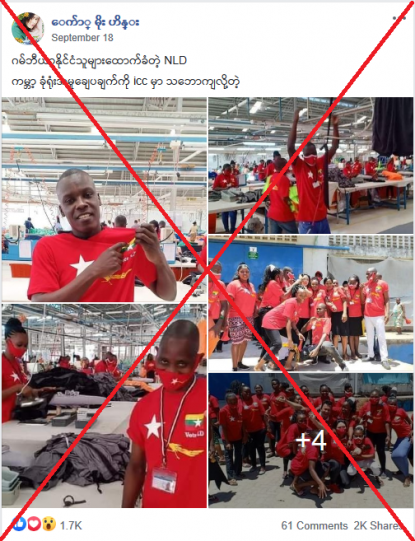 Screenshot of the misleading post, taken on September 30, 2020
The post's Burmese-language title translates to English as: "NLD is supported by the Gambia's citizens. Because they like (Myanmar's) defense statement at ICC."
The Facebook user, who refers to the International Criminal Court (ICC), appears to be referencing a lawsuit the Gambia filed in November 2019 against Myanmar in the International Court of Justice (ICJ) on behalf of the Organisation of Islamic Cooperation. The Gambia accused Myanmar of genocide against Rohingya Muslims in northern Rakhine State. Daw Aung San Suu Kyi, who is Myanmar State Counsellor and the chair of the NLD party, led a delegation to the ICJ to defend the case in December 2019.
In the photos, a group of people can be seen wearing red T-shirts with the NLD's logo. They were also published alongside a similar claim on Facebook here, here, here, here, here, here, and here.
A video showing a similar scene was also published on Facebook here along with the claim on September 19, 2020.
Screenshot of the misleading post, taken on September 30, 2020
The video was also published here with a similar claim.
The claim, however, is misleading. The photos and video show a factory in Kenya.
Keywords search found Facebook posts published here, here and here with corresponding images shared by a user named Win Naing (Win Ko).
The caption of the picture written in Burmese translates to English as: "We are red NLDs from Kenya".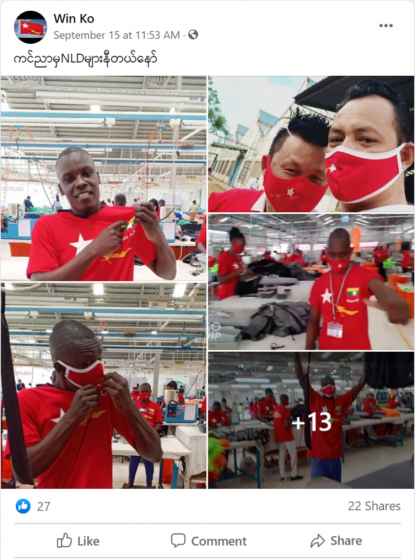 Another keyword search found this video also published by the same Facebook account on September 15, 2020.
Below are screenshot comparisons of the video in the misleading post (L) and the video in the Facebook post by user Win Ko (R):
A person who identified himself as the owner of the Win Ko Facebook account told AFP he took the pictures and video on September 14, 2020 at this factory in the Kenyan city of Mombasa. 
Giving his real name as Win Naing, he said the Facebook posts show him and his colleagues working at Kenya-based company Brilliant Garments Kenya Epz Limited.
In an interview with AFP on September 30 by Facebook video call, he said: "I took the pictures in Mombasa in Kenya. I organized this T-shirt wearing activities because I support Amay Suu (Mom Suu). My colleagues from the factory also know Amay Suu well."
Win Naing said he asked his factory colleagues to wear the NLD shirts in a bid to show their support for the ruling party in Myanmar's upcoming election, scheduled to be held on November 8, 2020.
"They all are Kenyan citizens, no one from the Gambia participated," he said.
This Facebook post and this video shared on the Facebook page for Brilliant Garments Kenya Epz Limited on September 15 also show similar scenes of workers wearing NLD T-shirts.
NLD, however, said the party has not carried out any campaigns abroad. 
"Our party has not been instructed to carry out such campaigns outside of Myanmar. Maybe people who support our party organized that kind of activities," U Kyi Toe, a member of NLD's central information committee, told AFP by phone on September 2, 2020.
In response to the misleading posts, Gambian Information Minister Ebrima Sillah also denied the claim.
Myanmar fact-check site Boom Myanmar also debunked this claim.