Meme using AFP photo falsely claims to show Trump-Ukraine scandal whistleblower
A photo of White House staff members who worked for former US president Barack Obama has been shared thousands of times with the claim that one of the men pictured is the whistleblower whose complaint prompted an impeachment inquiry into US President Donald Trump. This claim is false; the AFP photo actually shows R. David Edelman, who left his role at the White House two years prior to the whistleblower complaint being filed; Edelman has also refuted the claim. 
The meme says: "Remember this picture of Obama's White House staff crying the day after Trump won the election? Meet the alleged Ukraine call whistleblower."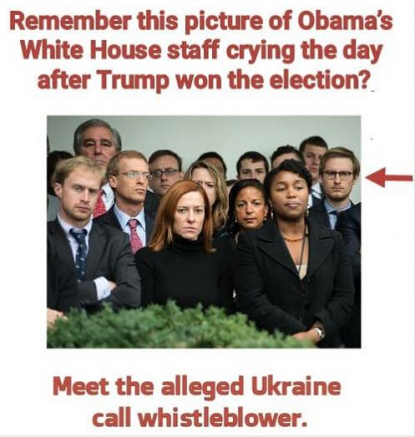 Screenshot taken on November 13, 2019 of a Facebook post
The post was also shared on Facebook here and here and on Twitter here.
The anonymous whistleblower, whose August 2019 complaint about Trump's attempt to pressure Ukraine to investigate political rival Joe Biden prompted the impeachment inquiry, is described only as an intelligence official who worked at the White House, AFP reported here on November 14. 
A 1989 law protects federal government employees who report possibly illegal activity, gross mismanagement, abuse or waste of funds. The law bans any retaliation against such persons.
Lawyers for the whistleblower released a statement on November 6, 2019, which said: "Identifying any suspected name for the whistleblower will place that individual and their family at risk of serious harm. We will not confirm or deny any name that is published or promoted by supporters of the President. Disclosure of any name undermines the integrity of the whistleblower system and will deter any future whistleblowers."
What we know about the image
The photo is real. It was originally taken by AFP photographer Nicholas Kamm on November 9, 2016. Here it is on AFP Forum: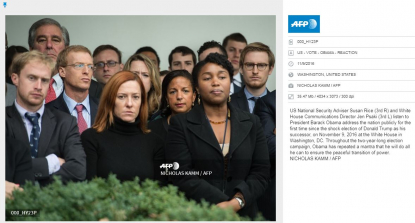 Screenshot taken on November 13, 2019 of an image on AFP Forum
The caption only names then-US national security adviser Susan Rice, third from right, and then-White House communications director Jen Psaki, third from left.
Who is the man?
The man who the red arrow in the meme pointed to is actually R. David Edelman.
Edelman served Obama as special assistant to the president for economic and technology policy, but he left government service and joined the Massachusetts Institute of Technology's Internet Policy Research Initiative in March 2017. He was listed in the 2016 annual report to Congress of White House staff, but not in a report of staff issued on June 30, 2017, after Trump assumed office.
The whistleblower's complaint was filed on August 12, 2019 and raises concerns about Trump's actions in July 2019.
On November 7, 2019, Edelman tweeted a correction to a slightly different version of the claim which said, "Left government in 2017. Sorry to disappoint, y'all."
FAKE NEWS: the 'NERD' circled below is the whistleblower.

TRUE (just not news): the 'NERD' circled below is…this nerd. Me.

Left government in 2017. Sorry to disappoint, y'all. pic.twitter.com/LEGSpgrBGJ

— R. David Edelman (@R_D) November 7, 2019
This topic was also fact-checked by Politifact and FactCheck.org.