Medical doctors challenge claim that Chinese herbal remedy 'inhibits' novel coronavirus after Chinese media reports praised it
Media reports in China claimed the traditional Chinese medicine Shuang Huang Lian could be effective in "inhibiting" the novel coronavirus. A similar claim has been viewed hundreds of millions of times in multiple Weibo, WeChat and Facebook posts. The posts were shared after a global outbreak of a new strain of the novel coronavirus broke out in the Chinese city of Wuhan in December 2019. The claim in the posts is misleading; medical doctors said the medicine has not been tested in clinical trials to prove its efficacy against the novel coronavirus; as of February 2020, the World Health Organisation has said there is no medicine to "prevent or treat the virus".
This WeChat post by Guangzhou Daily, a newspaper in the southern Chinese city of Guangzhou, has been viewed more than 100,000 times since it was published on February 1, 2020.
The simplified Chinese caption translates to English in part as: "Reporters were informed by the Shanghai Institute of Materia Medica Chinese Academy of Science on January 31 that its joint study with the Wuhan Institute of Virology showed proprietary Chinese medicine Shuang Huang Lian can inhibit the novel coronavirus. 
"The components of the Shuang Huang Lian oral liquid are honeysuckle, Chinese skullcap and weeping forsythia, which Chinese medicine practitioners believe can help detoxify and cleanse the body from inside out. 
"Modern medical research believes Shuang Huang Lian oral liquid is effective in fighting viruses, curbing bacteria and boosting the immune system. 
"Presently, Shuang Huang Lian oral liquid is undergoing clinical research at the Shanghai Public Health Clinical Center and Wuhan Tongji Hospital." 
Below is a screenshot of the misleading post:
Similar claims were viewed millions of times on here, here, here and here on Weibo, here, here and here on WeChat, and here and here on Facebook. 
Others posts published with the hashtag #ShuangHuangLianoralliquidcaninhibitnovelcoronavirus have also been viewed hundreds of millions of times on Weibo. 
At least 630 people have died and more than 30,000 others have been infected with the novel coronavirus in China, AFP reported here on February 7.
The misleading posts prompted panic buying for Shuang Huang Lian, CNN reported on February 1.
The medicine appeared to be sold out at most pharmacies and e-commerce platforms, according to this February 1 report by Hong Kong newspaper Sing Tao Daily. 
The claim that it can help protect people against the novel coronavirus is misleading; Shuang Huang Lian has not undergone comprehensive clinical trials necessary to determine its efficacy against the novel coronavirus.
-- Special medicine? -- 
Dr. So Tsz-him, an assistant professor of oncology and registered Chinese medicine practitioner at the University of Hong Kong, told AFP in an email dated February 5: "[Shuang Huang Lian] are very commonly used Traditional Chinese Medicine (TCM) herbs which are said to have 'clearing heat' effect. 
"They are most commonly used to treat various infections according to TCM theory, including respiratory tract infections, high fever, skin abscess etc." 
In a February 4 press conference, Chinese National Health Commission expert committee member Zhang Boli said pharmacological experiments had found Shuang Huang Lian helpful in "controlling" the new virus, but since no clinical study had been carried out, it remained unclear whether the medicine could prevent or cure the condition. 
Zhang also advised against the use of Shuang Huang Lian by people who are not sick, citing side effects such as diarrhea. 
Dr. So added: "In general Shuang Huang Lian ​Oral liquid has a 'heat clearing' effect in TCM terms. If you use it alone without any counterbalancing herbs as in traditional herbal formulae, that might cause 'coldness' for patients in TCM terms. Symptoms including diarrhoea, stomach pain, coldness of 4 limbs etc. In TCM theory, prolonged use might cause even weakening of immunity."
--Rush to develop vaccine-- 
The WHO stated in this January 29 Facebook post: "To date, there is no specific medicine recommended to prevent or treat the virus."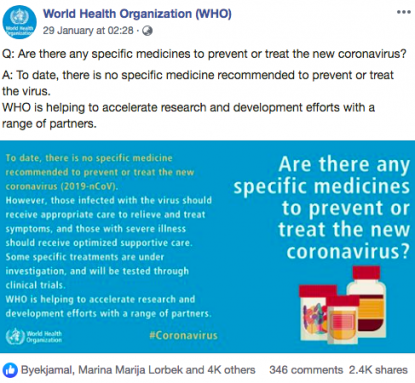 An international effort had been devoted into creating a vaccine for the novel coronavirus but a biotech executive told AFP in this report dated January 31 that the vaccine would not be available until at least mid-2020. 
One day after sharing the misleading report on Weibo, People's Daily clarified on Twitter and Facebook that there was "no strong evidence" to prove the effectiveness of Shuang Huang Lian on the new coronavirus.