Lysol product labels are not evidence of a novel coronavirus conspiracy
Social media users claim that because Lysol products are labeled as being effective against "human coronavirus," the novel coronavirus first reported in China's Wuhan is not new. This is misleading; they are a family of viruses, and Lysol's manufacturer said it has not tested its products against the new strain.
"UNBELIEVABLE !!! how the government is playing with everyone. Apparently the Coronavirus is 'new' and they can't find a cure for it!!!," a post shared 2,500 times on Facebook claims. "The CORONAVIRUS has existed for a long time, so long that the product LYSOL which has been on the market in aerosol form since 1962 has it in its label as a virus that can be killed by the simple application of it." 
The post includes several close-ups of the brand's disinfectant spray, including one of the back of the bottle and its label, with the mention "Human Coronavirus" circled. 
"Just another way that the government and pharmaceutical companies use to scare people and fill their pockets with money by selling placebo medicine, face masks, gloves and the government controlling economies of countries that they want to hurt and attack economically," the post says.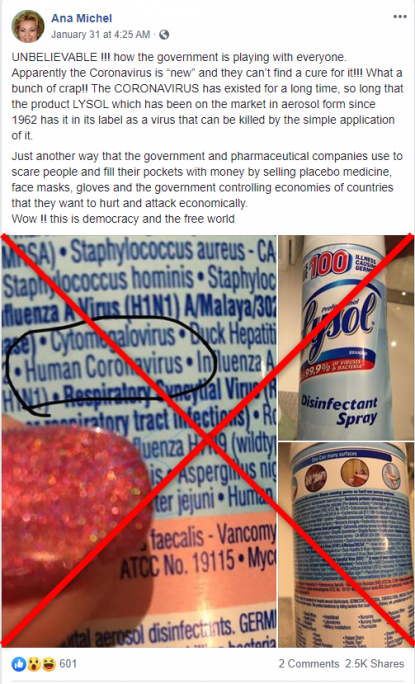 A screenshot taken on February 7, 2020 of a Facebook post
Similar posts have been shared here, here and here on Facebook, as well as here on Twitter, and here on Instagram. The same claim has also been made in Spanish here, here and here. 
But these claims are misleading.
"Coronaviruses are a large family of viruses," the Centers for Disease Control and Prevention (CDC) says on its website. "The recently emerged 2019-nCoV is not the same as the coronavirus that causes Middle East Respiratory Syndrome (MERS) or the coronavirus that causes Severe Acute Respiratory Syndrome (SARS)." 
The novel coronavirus, also known as 2019-nCoV, is a new strain that was first reported in the Chinese city of Wuhan in December 2019.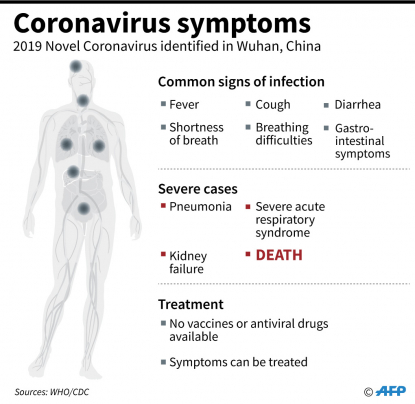 Graphic of coronavirus symptoms (AFP Graphics)
The virus, which had not been previously identified in humans, has infected more than 30,000 people across China, the majority in and around Wuhan, as of February 7, 2020. 
Outside mainland China, there have been more than 300 infections reported in nearly 30 locations. There are currently 12 confirmed cases of patients infected in the US. 
"We've become aware of the speculations about Lysol (and Dettol) products and the novel 2019-nCoV coronavirus. As this is an emerging outbreak, we (like all manufacturers) do not have access to the new virus (2019-nCoV) for testing yet and, as a result, are not yet in a position to confirm levels of effectiveness against the new strain," Reckitt Benckiser, the company that owns Lysol and Dettol, told AFP via Twitter. 
AFP Fact Check has also debunked similar claims circulating about Dettol, another Reckitt Benckiser product. 
The company recently updated its website to provide consumer information about the new strain of the virus, claiming that specific products "have demonstrated effectiveness against viruses similar to 2019 Novel Coronavirus (2019-nCoV) on hard, non-porous surfaces."
The World Health Organization recommends washing your hands with soap and water to protect against coronaviruses. 
The new coronavirus has been the subject of many hoaxes and conspiracy theories around the world, which you can read about here.