Indian anti-citizenship law protest footage recirculates online in false posts about farmers' protests
A video of a crowd chanting has been viewed thousands of times in multiple posts on Facebook in 2021 alongside a claim it shows people urging Delhi police to beat Indian farmers protesting against new agricultural laws. The claim is false: the footage has circulated online since at least December 2019, when India passed a new citizenship law, prompting large protests.
The 30-second clip was published here on Facebook on January 26, 2021.
It shows a crowd chanting as they march along a street.
They can be heard chanting: "PM Modi should deal with them with sticks! Delhi police should beat them with sticks! Beat these jihadists with sticks!"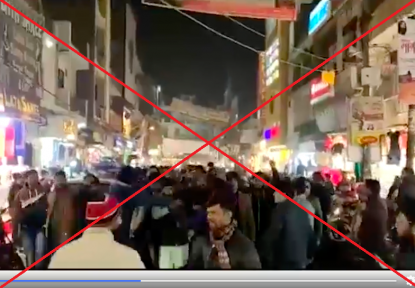 A screenshot of the misleading Facebook post on February 8, 2021
The post's Hindi-language caption claims the people in the clip are chanting about Indian farmers. Tens of thousands of farmers, mainly Sikhs from the northern states of Punjab and Haryana, have been protesting in and around the Indian capital of Delhi since November 2020, AFP reported.
"PM Modi should deal with them with sticks, Delhi police should beat them with sticks, these are not farmers who are protesting but violent goons," the post reads.
"PM Modi" refers to India's Prime Minister Narendra Modi, who has vowed to push on with reforms to deregulate farm produce despite widespread protests. Farmers argue the changes will leave them at the mercy of conglomerates.
On January 26, 2021, a mass tractor rally in Delhi on the sidelines of India's Republic Day parade turned into a rampage that left one person dead and hundreds of police injured.
The video was also shared alongside the same claim on Facebook here and here.
The claim, however, is false.
A reverse image search on Yandex using keyframes of the video obtained with InVID-WeVerify, a digital verification tool, found the same clip published here on a YouTube channel for "hello Uttarakhand news" on February 25, 2019.
"CAA & NRC: Delhi police beat them with sticks, we are with you, viral video," the Hindi-language title of the video reads.
"CAA" is an acronym for the Citizenship Amendment Act, which was passed in India on December 11, 2019. The law, which granted citizenship to non-Muslim immigrants from Afghanistan, Bangladesh and Pakistan, sparked violent protests nationwide, as reported by AFP here.
"NRC" refers to the National Register of Citizens. It is a government record of all Indian citizens, currently only being logged in the state of Assam. The NRC came under scrutiny after its release in August 2019 was found to have omitted some two million people deemed unable to prove their Indian citizenship. Critics claimed the move particularly discriminated against the state's Muslim population, as reported by AFP here.
Below is a screenshot comparison of the video shared in the misleading Facebook post and (L) and the YouTube video (R):
Similar footage of this anti-CAA and NRC rally can be found online here, here. A longer version was published here in December 2019.
Hindi news website Lokmat also published a similar video in an article on the protest in December 2019.
Visual clues in the video shared in the misleading posts shows it was filmed in Delhi's Laxmi Nagar locality. At the 28-second mark of the video, a sign that reads 'Lata Saree' is visible. The shop can be seen here on Google Maps, on Vijay Chowk Road.