Images of Pakistani journalist with opposition party chairman doctored to include envelope
A photo collage has been shared in multiple Facebook and Twitter posts in May 2021 alongside a claim it shows a Pakistani journalist accepting a bribe from the chairman of a Pakistani opposition party. But the image has been altered to include an envelope, purportedly filled with cash.
The photo collage was posted here on Facebook on May 26, 2021.
Hamid Mir, a Pakistani journalist working at Pakistani media outlet Geo News, is pictured on the right-hand side of both images. 
The photos purport to show Mir receiving an envelope from Bilawal Bhutto Zardari, the chairman of the Pakistan Peoples Party (PPP), one of Pakistan's opposition political parties.
A yellow arrow drawn on the images purports to show that Zardari gave Mir an envelope filled with cash.
The post's Urdu-language caption reads: "If Shah Mahmood Qureshi didn't give the interview then how would I learn that an envelope is called 'deep pockets' in English. #DeepPockets. Deep pockets. Hamid Mir, Talat Hussain, Isma Shirazi, Gharida, Saleem Safi, etc".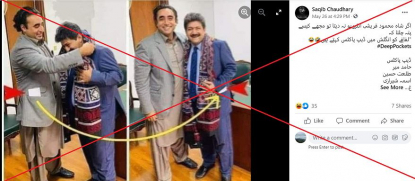 Screenshot of the image falsely claiming Hamid Mir took a bribe. Taken on May 29, 2021.
The phrase "deep pockets" has recently gained traction in Pakistani social media following a CNN interview in which Pakistan's Foreign Minister, Shah Mahmood Qureshi, claimed Israel has "deep pockets" and "they control media".
The interview sparked debate on whether Qureshi's comments were anti-Semitic, Pakistani newspaper Dawn reported here.
The photo collage began circulating online after Mir accused the Pakistani military of attacking journalists. He made the comments at a rally in Islamabad in late May, as seen in this video he tweeted on May 29, 2021.
Mir was subsequently criticised online, including by a government official of the Punjab province here, for speaking out against Pakistan's military.
The same photo collage has been shared alongside a similar claim on Facebook here and here; and on Twitter here, here, here and here.
The images, however, have been doctored to include the envelope.
A reverse image search found the original images were posted on Mir's Twitter account here on April 23, 2019.
"I love Sindhi Ajrak thanks @BBhuttoZardari @Mustafa_PPP @ShaziaAttaMarri @SoomroJameel," the tweet reads.
There is no envelope in either of the original images.
Below is a comparison of the doctored images (L) and the original images (R):
Screenshot comparing the doctored photos(L) with the ones posted by Hamid Mir(R). Taken on May 29, 2021.