This image was staged by a photography student in Saudi Arabia
A widely-shared Facebook post claims to show a Syrian boy sleeping between the graves of his parents, all of them ostensibly casualties of the country's civil war. The claim is false; the image was staged in Saudi Arabia by a budding photographer.
Variations of the claim include this post here with more than 90,000 shares. While the image is the same, the caption makes no mention of Syria, only that it is a child "who lost both of his parents".
A watermark across the image says "I believe in Jesus Christ".
Screenshot from a Facebook post taken on March 9, 2020, claiming the child in the image has lost his parents
Other posts like these here, here and here, however, make the connection to Syria and some claim the child was orphaned by an air strike.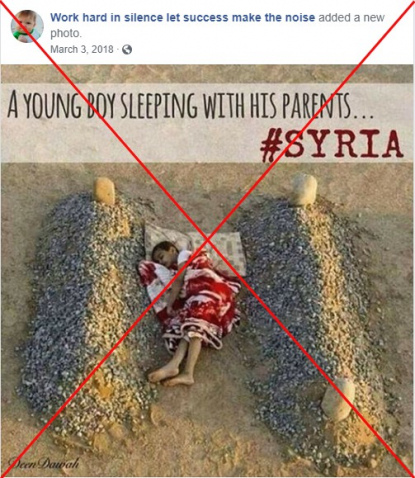 Screenshot of a Facebook post taken on March 2, 2020, using a variation of a meme with reference to Syria
It is this assumed link to the civil war in Syria that helped the meme go viral, yet the image was not even taken in the strife-torn country.
Art project 
The original photo in black and white was posted to the Instagram account below on January 3, 2014.
Screenshot taken on March 2, 2020, of the Instagram account where the picture was first posted
It belongs to Abdulaziz Alotaibi, a photographer from Saudi Arabia who staged the image near the port city of Yanbu as part of an art project themed around orphaned children. The shot featured his nephew, Ibrahim Alotaibi, who was nine at the time.
Alotaibi said the aim had been to take a "distinctive picture that would remain in people's minds".
In an email to AFP, Alotaibi said he had seen his photograph misinterpreted many times. 
Searching for Alotaibi's image brings up multiple reports (see here and here) and in which he is quoted setting the record straight. But his efforts were presumably unseen by at least one US news site which used his image out of context, as this article describes. 
Days after a Twitter user first linked the image to Syria's civil war, in a tweet since deleted, Alotaibi published "behind-the-scenes" photographs on Instagram to prove it was all staged.
Screenshot of Alotaibi's Instagram account taken on March 2, 2020, with additional images from the shoot
Alotaibi sent unpublished pictures from the shoot to AFP.
Images sent to AFP by Saudi photographer Abdulaziz Alotaibi, from left, his nephew Ibrahim; a Bangladeshi man who helped him create the "graves"; and Alotaibi himself in a digger which he used for elevation
With permission from his older brother to include Ibrahim in the shot, Alotaibi said he went to Yanbu where his nephew was spending summer.
"After lunch, I asked my nephew to bring a pillow and blanket. The idea was to make two graves and then Ibrahim would sleep between these graves to express a feeling of safety with his parents, even if they were bodies without spirits."
After preparing the location outside the city, Alotaibi said he waited until sunset so that the picture would actually look like it was taken at dawn. He changed colour settings and used an earthmover to shoot from above.
"After I finished, I took pictures behind the scenes so people would know they were not real graves. After posting the photo to Instagram, some people misrepresented the picture and story, saying it was in Syria," he said.
"I am very happy that I was able to create a single picture that tells a story in which the world, in different languages, can feel all its details, despite the simplicity of the picture. I hope people look at the artistic meaning and feel of the story instead of using it in another way."