This image was created as 'artistic expression' and is not a genuine National Geographic cover
An image that appears to show a Sikh farmer on the cover of National Geographic magazine is circulating online as farmers' protests continue to sweep India. However, the image was created by an Instagram user "for artistic expression" and has not featured on any of the magazine's covers since the demonstrations began.
The image was published on Facebook here on January 4, 2021.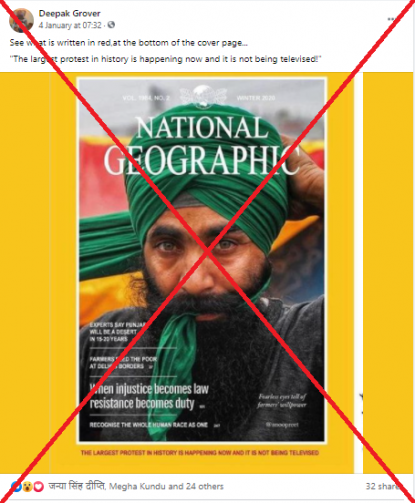 Screenshot of misleading Facebook post
"See what is written in red, at the bottom of the cover page… "The largest protest in history is happening now and it is not being televised!'", the caption reads.
The post circulated as farmers, consisting mainly of Sikhs from the northern states of Punjab and Haryana, continue widespread protests against new agriculture laws introduced by the Indian government.
Tens of thousands of farmers have held sit-ins on key roads into New Delhi after being blocked from marching into the capital in late November over laws deregulating their industry.
The purported magazine cover was widely shared online alongside similar captions, including here, here and here. British film director Gurinder Chadh also shared the image on her Facebook page here.
The image, however, does not show a genuine National Geographic cover.
At the bottom-right corner of the image the social media handle "@anoopreet" is written in white. A search found that the image posted on the @anoopree Instagram account here on January 4, 2021.
Screenshot of Instagram post
"This is an imagined cover for artistic expression only," the caption reads. "I came across this portrait by @choudharyravi and it instantly captivated me just like the controversial portrait of the 'Afghan Girl'... Through the eyes of this 'Punjabi Farmer', one is energised by the unwavering willpower of Indian farmers protesting peacefully for their rights".
Ravi Choudhary, who is cited as the original photographer, published the photo of the Sikh man in a portrait series on Instagram here on December 27, 2020.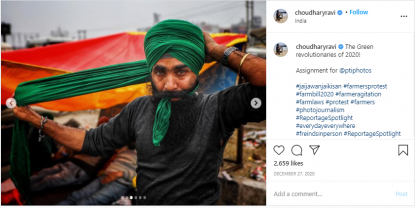 Screenshot of Instagram post
A review of National Geographic covers during the months since the Indian farmers' protest began also shows that the image does not feature on any of them.
Below are screenshots taken from National Geographic's official website of the magazine covers for November and December 2020 and January 2021.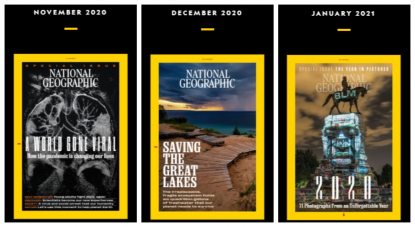 Screenshots of the magazine's cover pages