This image of Narendra Modi at a Mumbai hospital has circulated online since 2014
A photo of Indian Prime Minister Narendra Modi at a hospital has been shared hundreds of times in multiple Facebook and Twitter posts alongside a claim it shows him visiting a billionaire couple to congratulate them on the birth of their latest grandchild. The posts, which circulated online in December 2020, criticise Modi for allegedly making the visit during protests by Indian farmers against new agriculture laws. The claim is false; the image shows Modi with the couple at a hospital inauguration ceremony in Mumbai in October 2014, more than six years before the Indian farmers' protests.
 The photo was published here on Facebook on December 13, 2020.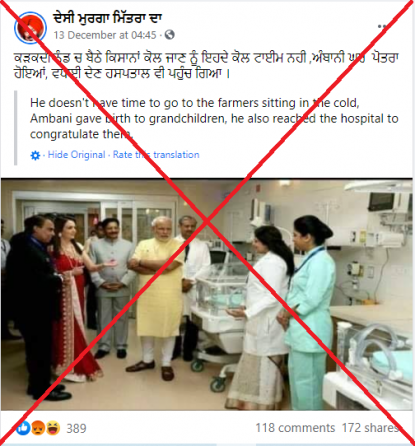 Screenshot of misleading Facebook post
The post's Punjabi-language caption translates to English as: "He doesn't have time to visit the farmers who have been protesting in this cold weather, but he has time to visit hospital to congratulate Ambani on the birth of his grandchild."
The photo has been shared as Indian farmers protested against new agriculture laws. AFP reported on the protests here.
Ambani refers to Reliance Industries Chairman and Managing Director Mukesh Ambani, who became a grandfather last week after his daughter-in-law gave birth to a baby boy on December 10, 2020.
The photo was also shared here, here, here and here on Facebook and here, here, here and here on Twitter, alongside an identical claim.
The claim, however, is false.
A reverse image search on Google found the original photo was published here in a report by India Today on October 25, 2014.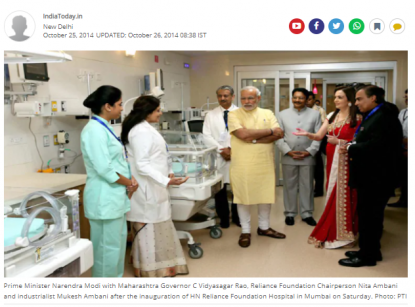 Screenshot of photo published in India Today report
The photo's caption reads: "Prime Minister Narendra Modi with Maharashtra Governor C Vidyasagar Rao, Reliance Foundation Chairperson Nita Ambani and industrialist Mukesh Ambani after the inauguration of HN Reliance Foundation Hospital in Mumbai on Saturday," with credit to the Indian news agency PTI."
Below is screenshot comparison of the image in the misleading Facebook post (L) and the photo published alongside the India Today report (R):
Image comparing screenshot
The event was widely reported in Indian media, for example here by The Indian Express and here by the Aaj Tak TV channel.
The event was also streamed live on PM Modi's personal and official YouTube channels, here and here.