Image of hoax poster from Irish health service circulates online as Covid-19 cases soar
As coronavirus cases surge in Ireland, a picture of a poster that appears to be from the national health service asking people to report their neighbours for not wearing a mask has been circulating on Facebook around the world. The image is a hoax; the poster lists an old fax number for the Irish Times newspaper and Ireland's Health Services said they did not issue it. 
A Facebook user in New Zealand posted the image on January 4, 2021. 
It appears to show a poster from Ireland's Health Services (HSE) that reads: "Is your neighbour wearing a mask? If not, report".
A screenshot of the post taken January 14, 2020
"That's about right.. Report on your neighbours … Your friends... Your family.. Yes… Even your own Children… Clearly the Nazi System was never squashed," the post's caption read.
The HSE logo can be seen in the poster's bottom right-hand corner. The poster also mimics the health authority's typeface, layout and Covid-19 advice symbol (in the top right-hand corner).
A closeup of the poster featured in the Facebook post.
The image also circulated on Facebook pages in Britain and Portugal, as well as in Ireland.
In the midst of a third wave of coronavirus infections, Ireland has become the nation with the highest transmission rate in the world. There were 1,288 confirmed cases per million of the population on January 11, 2021, AFP reported.
However, the picture circulating online is a hoax.
In a January 14 email to AFP, Ireland's Health Services said the photo "is not a HSE sign / message". 
The agency provided a link to a publicly available list of the posters it has issued; see here. None of the posters listed on the website match the one featured in the Facebook post. 
Below are three examples of genuine posters issued by the HSE.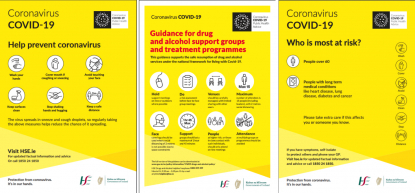 A collage of some authentic COVID-19 related posters from the HSE.
A Google search found that the phone number  "(01) 671 9407" listed on the hoax poster is not associated with the HSE. 
The number is in fact listed as an old fax number for submitting letters to the editor of the Irish Times seen here in 2001 on the newspaper's website. 
The phone number on the hoax poster does not match any of the official HSE hotline numbers listed on their posts or on their website.
According to an HSE fact sheet, face coverings are currently required in various public places, including shops, pharmacies, libraries and cinemas.