This image has been manipulated from a photo of Tom Hanks wearing a USA soccer jersey
An image of American actor Tom Hanks purportedly wearing a T-shirt that reads "take me to Greece" has been shared hundreds of times on Facebook. In fact, the picture has been manipulated from a photo Hanks posted in 2015, in which he was wearing a USA national soccer team jersey.
The image was published on April 6, 2021 in a Facebook group, "Greeks Worldwide", which has more than one million followers.
It purports to show a selfie of Tom Hanks wearing a blue T-shirt emblazoned with the slogan "Take me to Greece".
The T-shirt also appears to feature an illustration of a donkey that includes the colours of the Greek flag.
A screenshot of the misleading Facebook post as of April 8, 2021.
The image was also shared in these Facebook posts here and here.
The image, however, has been manipulated.
A Google reverse image search of the picture found this article by the Times of India, published on September 25, 2020.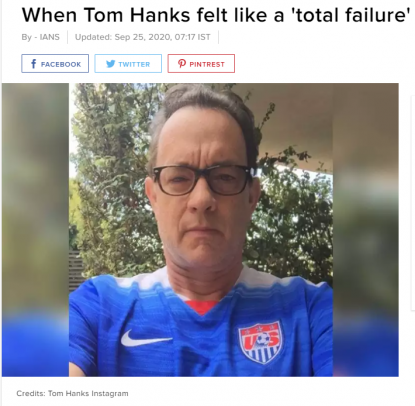 A screenshot of the Times of India article, taken on April 7, 2021
A further reverse image search on the photo in the article found this Instagram post published by Hanks on June 30, 2015.
"Fake turf or not, I'm full Bosom Buds if coach Ellis needs me. No yellow cards! Hanx," the caption reads.
Below is a comparison between the misleading post (L) and Hanks' Instagram post (R):
"Coach Ellis" refers to former US women's soccer team coach Jill Ellis, who led the team between 2014 to 2019. 
The shirt worn in the image is the Nike 2015 US national team away kit, which debuted at the Algarve Cup in March of that year.
Tom Hanks was awarded honorary Greek citizenship in 2019, along with his wife Rita Wilson, who is of Greek origin. 
Hanks has said that he feels "110 percent Greek...I'm more Greek than a Greek is" by being married to Wilson, producer of 'My Big Fat Greek Wedding.'