Former Nigerian vice president fabricates Bernard Shaw quote in message to White House
Nigeria's former vice president Atiku Abubakar quoted Irish playwright George Bernard Shaw in a congratulatory message to the White House. But AFP Fact Check found that the literary icon never made the statement attributed to him. A Shaw expert said Atiku may have been "having fun" with the attribution.
In January 2021, shortly after US President Joe Biden and Vice Pesident Kamala Harris were sworn into office, Atiku posted an open letter to the White House to congratulate the pair. In the message, Atiku said he was looking "forward to the removal of every travel restriction on Nigerian citizens".
"As the playwright, George Bernard Shaw once said, America and Nigeria are two nations divided by a common language. And millions of Nigerians and I wish to see that relationship sustained to the mutual benefit of both our democratic nations," Atiku wrote.
The post, which has more than 9,700 likes and over 1,100 comments, resurfaced in January 2022 as Nigerians began to cast doubt on the accuracy of the quotation.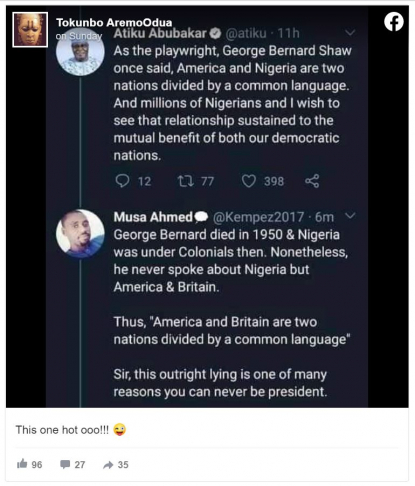 A screenshot taken on January 14, 2021, shows doubts over Atiku's attribution
Quote not from Bernard Shaw
Multiple online searches for the citation yielded no result. AFP Fact Check found a similar version attributed to Shaw, in which he is quoted as saying: "England and America are two countries separated by a common language".
Quote Investigator, a website dedicated to the origin of quotes, has four versions of the quotation with minor differences. None of them make reference to Nigeria.
AFP Fact Check contacted the International Shaw Society, which publishes the Journal of Bernard Shaw Studies with Penn State University.
"Shaw definitely did not" use that quote, according to the society's president Richard Dietrich.
"He is often credited with 'England and America are two nations divided by a common language,' but we have not been able to find a source for that, and others have also been credited with that saying, such as Oscar Wilde or Winston Churchill," he told AFP Fact Check.
Dietrich added that Atiku "seems to be having fun with this attribution, so just think of it as 'fun'".
Who is Bernard Shaw?
Bernard Shaw (1856-1950) was an Irish playwright, dramatist, and political activist. Shaw won the Nobel Prize in Literature in 1925 for his play 'Saint Joan', about a 15th-century French military figure. He also won an Oscar for screenwriting, becoming the first person to ever win both awards.
Shaw wrote more than 60 plays, many of which can be found here. He made a visit to South Africa in 1932, where he wrote The Adventures of the Black Girl in Her Search for God. There is no record of him visiting Nigeria, or writing about Nigeria and the United States simultaneously.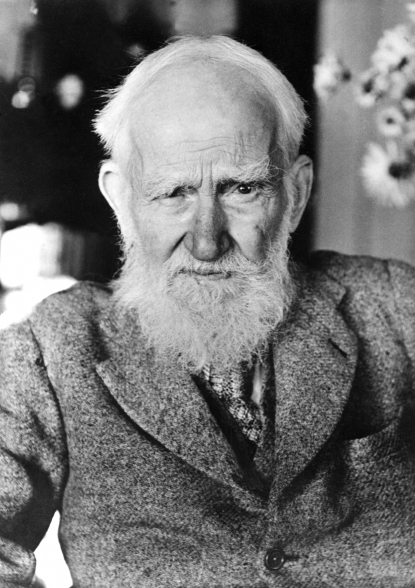 Bernard Shaw in July 1947 a few days before his 91st Birthday ( AFP / )
Oscar Wilde, another Irish playwright, made a similar remark to Shaw's in his 1887 play The Canterville Ghost. Describing one of the characters in the play, Wilde said "in many respects, she was quite English, and was an excellent example of the fact that we have really everything in common with America nowadays, except, of course, language."
In a comparison of American and British writing styles, The Guardian quoted both Shaw and Wilde as making similar remarks. No mention of Nigeria was made.