Indonesian carrier rejects claims of China Airlines acquisition
Facebook posts and blog posts share a screenshot of an article that claims Indonesia's flag carrier Garuda Indonesia has been acquired by Taiwan's national carrier China Airlines. The claim is misleading; a Garuda Indonesia executive said the company was not in discussions regarding acquisition by any other airline companies or third parties. Garuda Indonesia is a codeshare partner of China Airlines. 
"It's really sad that our acclaimed Garuda INDONESIA airline has changed its name...," reads an Indonesian-language Facebook post uploaded on December 18, 2021.
It features a screenshot of a blog post from December 17, 2021, headlined: "Garuda Indonesia Carrier Acquired by China Airlines?"
The blog post shows photos of China Airlines and Garuda Indonesia planes.
Screenshot of the misleading post taken on December 6, 2021
The first paragraph of the Indonesian-language blog post reads: "On Garuda Flight GA 215 from Yogyakarta International Airport/YIA (new airport in Kulon Progo) to Cengkareng. Before the departure, there was an announcement from the room. The co-pilot said, 'Welcome to Flight GA 215'. And surprisingly, the announcement said that Garuda Indonesia cooperated with China Airlines.."
Yogyakarta International Airport is in Kulon Progo regency in the Indonesian city of Yogyakarta.
Cengkareng, a district west of the capital Jakarta is home to Soekarno-Hatta International Airport.
A similar claim was shared across mutliple blog posts, including here, here and here; and on Facebook here and here.
However, the claim is misleading. 
Mitra Pirianti, vice president of corporate secretary for Garuda Indonesia said there was "no truth to the rumours" that the carrier was being acquired by China Airlines.
"Garuda Indonesia is aware of a news media report stating that we are being acquired by China Airlines," she told AFP on January 6.
"Currently, we are not in the discussion for acquisition matters with any other companies or third party."
Codeshare flights
Garuda Indonesia Flight GA 215 is actually a codeshare with China Airlines Flight CI 9675 from Yogyakarta to Jakarta. 
According to the US Department of Transportation's website, code sharing is "a marketing arrangement in which an airline places its designator code on a flight operated by another airline, and sells tickets for that flight".
AFP entered the code "GA 215" in flight-tracking website flightstats.com and found that the Garuda Indonesia flight is also marketed as CI 9675 of China Airlines, which serves as a codeshare airline.
Below is a screenshot of the details for Flight GA 215 on flightstats.com, with the code share details circled in red by AFP.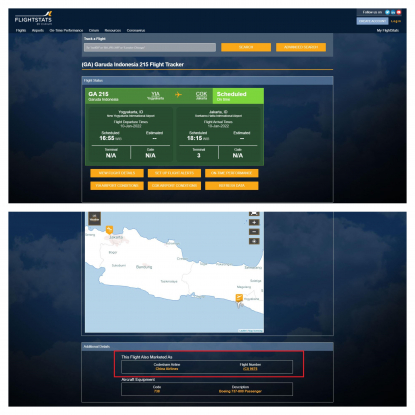 Screenshot of the results on flightstats.com, taken on January 10, 2021
On its website, China Airlines lists Garuda Airlines as one of its codeshare airlines. 
Mitra told to AFP via text message that Garuda Indonesia Flight GA 215 was a codeshare flight with China Airlines.
"GA 215 is also a Codeshare flight with China Airlines which allows passengers to benefit from seamless and convenient connectivity from Yogyakarta-Jakarta to Taipei and vice versa," she wrote. 
AFP has previously debunked claims that China Airlines serves as a domestic flight in Indonesia.