These roads are located in Brazil and Uganda, not the Democratic Republic of the Congo
Facebook posts with contrasting photos of a damaged jungle road and a neatly paved freeway are being shared alongside a claim that they show the positive results of Uganda's road infrastructure project in the Democratic Republic of Congo (DRC). But this is false: a reverse image search revealed that neither road is located in DRC; one is found in Brazil and the other, Uganda.
"DR Congo Roads before Uganda's intervention vs soon after its intervention (sic)," reads a post shared on this Facebook page with more than 200,000 followers.
 
The post includes two pictures: the first shows a virtually impassable dirt road with trucks and construction vehicles at a standstill, while the second shows a smoothly paved road with markings. 
A screenshot of a false Facebook post, taken on December 16, 2021
A similar post was shared on Facebook here and on Twitter.
Uganda has launched road-construction projects in DRC aimed at boosting trade and improving security between the two countries (see here and here).
However, a reverse image search shows that the roads are not in DRC.
The image of trucks lined up on a dirt road shows a segment of Brazil's Trans-Amazonian highway, or road BR-163, which can become impassable during heavy rains. The photo has appeared in publications (here and here) about efforts to overhaul the country's major transport route, which cuts through the Amazon rainforest.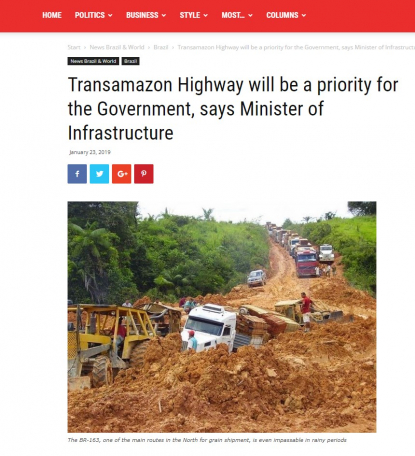 A screenshot of an article about the Trans-Amazonian Highway, taken on December 20, 2021
The second picture shows the Mpigi-Kanoni road in central Uganda. On September 3, 2019, the Uganda National Roads Authority (UNRA) tweeted photos of the road in an announcement about the completion of the project.
COMPLETE: Mpigi—Kanoni road project [65km] is now at 100%.

Traverses districts of Mpigi, Butambala & Gomba. According to communities, the returns from the project are immense. The road has eased transportation of agricultural produce like Coffee, e.t.c... #UNRAworkspic.twitter.com/XA5z1dQv3q

— UNRA_UGANDA (@UNRA_UG) September 3, 2019
Collaboration between Uganda and DRC on issues of economic development is in stark contrast to years of shared animosity and fighting. Uganda has engaged in several military operations in DRC, and the army's activities during the 1998-2003 civil war left deep wounds which strained relations between the two nations.
In December 2005, the International Court of Justice (ICJ) ordered Kampala to compensate Kinshasa. The court found Uganda guilty of plundering natural resources during its five-year occupation in northeast DRC.
A proposal has been put forward to include DRC in the East African Community (EAC) as the seventh member state.