China and Russia have not sent soldiers to Djibouti-Ethiopian border in response to Ethiopian conflict
A post claiming to show foreign troops being deployed at the border between Ethiopia and Djibouti to help the Ethiopian army fend off rebels of the Tigray People's Liberation Front (TPLF) is circulating on Facebook. This post surfaced as Ethiopia's military regained control of territory previously taken by TPLF rebels. However, the claim that Russian and Chinese troops are posted in Djibouti is false: When contacted by AFP Fact Check, an official at the Russian embassy in Ethiopia refuted the claims, and there is no evidence that the Chinese news report cited in the false post exists.
The post, archived here, has been shared nearly 300 times since it was posted on Facebook on November 24, 2021. It was published on a page called "Bahirdar Daily" and has received 33 comments and 800 likes.
Three images, two of which appear to be armed vehicles with Russian, Chinese and Mongolian flags, were shared alongside the claim. The third image shows soldiers standing at attention with a row of tanks in the background.
Written in Amharic, the post's caption reads in part: "Russia, China and anti-NATO forces arrived late afternoon in Djibouti and with the approval of the member states of the African Union, including the President of Djibouti".
Screenshot of the false Facebook post, taken on December 6, 2021
The post further claims that the number of countries joining the conflict "against the United States has risen to more than 90" and concludes with a claim that Chinese national press agency Xinhua wrote a report about the purported troop movements.
Ethiopia accused the United States in early December of "perpetuating a destructive narrative" after Washington and its allies sounded the alarm over reports that the authorities were unlawfully detaining citizens on ethnic grounds.
The conflict in Ethiopia broke out in November 2020, when rebels from TPLF attacked a military command post in the northern region of Tigray. In December 2021, the TPLF claimed key cities on the way to the country's capital city Addis Ababa, which led to many embassies urging their citizens to leave the country urgently.
AFP graphic of the timeline of main developments in the year-long Tigrayan conflict in Ethiopia
On November 23, 2021, Ethiopian leader Abiy Ahmed announced that he would lead military field operations. This week, the government announced a string of victories and regained control of key cities previously claimed by TPLF rebels, AFP reported.
However, the claim that Chinese and Russian soldiers were deployed in Djibouti to help Ethiopian troops is false.
No report by Xinhua
AFP Fact Check searched through the Xinhua website using keywords found in the caption which did not yield any result. We found no evidence of an archived version of the report on Wayback Machine either.

Screenshot of search on Xinhua website, taken December 6, 2021
Contacted by AFP Fact Check, a journalist working for Xinhua who asked to remain anonymous for safety reasons, denied the agency wrote such a report, adding that "this is not Xinhua's writing style".
Russian embassy denies claims
In an email sent from the Russian embassy in Addis Ababa on December 6, 2021, an official dismissed the claims as "fake news".
"This news is absolutely fake and has nothing to do with the truth. No Russian contingent has been deployed in Djibouti," she said.
Furthermore, Russia expressed a position against foreign intervention in a Facebook post published on December 3, 2021.
"Russia strives to play a balancing, stabilising role in global politics. We uphold sovereign equality of states, non-interference in their internal affairs, non-use of force or threat of force, and peaceful settlement of disputes," the post reads.
"We do not copy the example of the Western countries and do not intrude in their domestic affairs."
Unrelated images
AFP Fact Check ran reverse image searches on the photographs published in the false Facebook post and traced them to unrelated events.
We found the first two images in an article published by Financial Times (FT) on September 13, 2018. The FT article reports on a Russian and Chinese joint military exercise in September 2018 that involved more than 300,000 soldiers.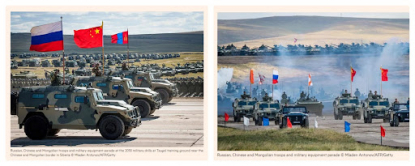 Images shared in false Facebook post found on Financial Times
According to the caption, the images show Russian, Chinese and Mongolian troops during a military parade near the Chinese and Mongolian border in Siberia in 2018. Both images are credited to AFP photographer Mladen Antonov.
The last picture, also taken by Antonov, was found in an article published by The Atlantic on September 14, 2018, and shows the same military drill at Tsugol training ground not far from China and Mongolia in Siberia.
Screenshot of the same image found on The Atlantic website, taken December 6, 2018
AFP Fact Check recently debunked a similar post that falsely claimed that Voice of America (VOA) reported US troops were en route to Ethiopia due to the ongoing conflict.