Posts falsely claim that Voice of America reported US troops were en route to Ethiopia
Posts shared on Facebook in Ethiopia claim that international broadcaster Voice of America (VOA) reported on US troops preparing for deployment to Addis Ababa to help thwart rebels from advancing on the capital. But the claim is false: VOA told AFP Fact Check it never published any report on any of its news platforms in recent weeks alleging US forces were gathering in neighbouring Djibouti in preparation for a defence of the Ethiopian capital.
The post was published on Facebook on November 24, 2021, and has since been shared more than 280 times.
Written in Afaan Oromoo, the post translates to: "The American army known as NATO has been deployed in thousands in Djibouti today. As per a report by the VOA, the US army is marching from Djibouti to Finfinne (sic)."
Finfinne is the native Oromo name for Addis Ababa, while Camp Lemoinner in Djibouti is the US military's primary Africa Command base in the Horn of Africa.
A similar post shared more than 330 times was published on Facebook on the same day.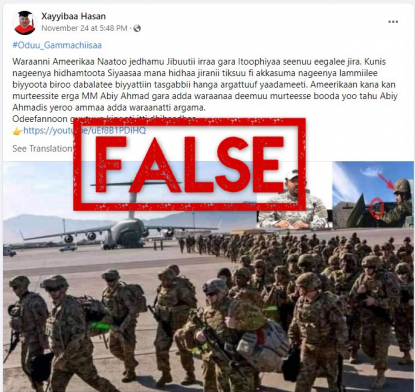 AFP reported that state-owned Fana Broadcasting Corporate had disclosed on November 24, 2021, that Ethiopian Prime Minister Abiy Ahmed had joined his troops on the battlefield amid fears that Tigrayan rebels could march on Addis Ababa.
Weeks before, on November 5, 2021, the US State Department ordered the withdrawal of non-essential embassy staff from the country because of "armed conflict, civil unrest, and possible supply shortages".
The US again urged its citizens in Ethiopia to leave the country immediately on November 22, 2021, saying there were no plans to facilitate an evacuation.

The Ethiopian war erupted in November 2020 when the government sent troops into Tigray to topple the Tigray People's Liberation Front (TPLF). Abiy said that the move was in response to Tigrayan rebel attacks on federal military camps in the northern region.
But the claim that US troops were reportedly en route to Ethiopia's capital from Djibouti is false.
Non-existent report
A search for the report on VOA's website and its Twitter and Facebook pages came up empty.
The broadcaster's Horn of Africa Service told AFP Fact Check that the news organisation had not published any reports saying that US forces were gathering for deployment to Addis Ababa.
"No, none of the VOA's Horn of Africa countries reported on the US military heading to Addis Ababa from Djibouti. We have checked our TV, R/TV and social media posts; nowhere have we reported this news," said spokeswoman Tizita Belachew.
Neither do the photos shared in the posts show US troops en route to Addis Ababa. The first image shows American soldiers at Bagram Air Base in Afghanistan in 2013 whilst the second one is of US soldiers in Camp Lemonnier on their way to Juba, South Sudan in December 2013.
The first photo shows US troops at Bagram airfield in Afghanistan in 2013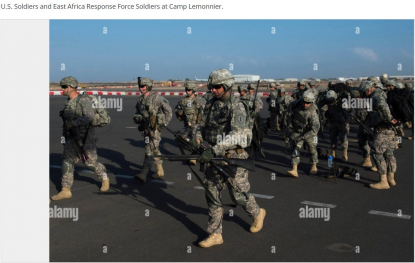 The second photo shows US troops in Djibouti in 2013
The North Atlantic Treaty Organization (NATO), a military alliance of countries from Europe and North America, also mentioned in the posts, told AFP Fact Check that it has a small liaison office in Ethiopia, but it hasn't deployed troops in Ethiopia or any other African country.
"NATO currently has a small liaison office in Addis Ababa hosting a handful of staff (fewer than five). There are no military forces under NATO command in Ethiopia or on their way to Ethiopia," said NATO.
Additionally, there has been no mention of US troops on their way to the country by US officials or the local Ethiopian press.