Kanye, Beyoncé, other celebrities not defendants in Ghislaine Maxwell trial
Social media posts claim that celebrities including Kanye West, Beyoncé and Jay-Z are defendants in British socialite Ghislaine Maxwell's trial for sex crimes, citing a court document. This is false; Maxwell is the only defendant in the current criminal trial, and the document is from a 2020 civil suit that was dismissed by a judge who described its claims as "irrational."
"Why is Disney,Beyoncé , Kanye West Listed as Defendants on Epstein -Ghislaine Maxwell Trial ?" asks a November 23, 2021 tweet.
The tweet -- as well as various posts on Facebook -- features an image of a document from a lawsuit filed in federal court that named the celebrities as well as The Weinstein Company, The Walt Disney Company, and hundreds of others as defendants.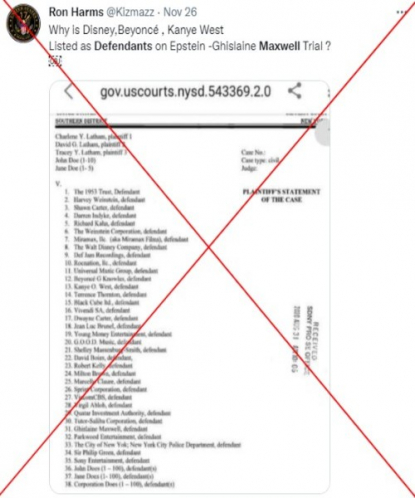 Screenshot of a tweet taken on December 2, 2021
Maxwell faces six counts of enticing and transporting minors for sex with now-deceased financier Jeffrey Epstein, who had been awaiting trial on similar charges. The case has sparked various inaccurate claims, and AFP Fact Check has debunked others about people allegedly linked to Epstein and Maxwell, whose activities have been the subject of fevered speculation among adherents of the QAnon conspiracy movement.
Maxwell has been held without bail since her July 2020 arrest. Her trial opened on November 29, and the first of four women expected to take the witness stand did so the following day.
However, she is the only defendant, and while the court document featured in the posts is real, it is unrelated to the current proceedings.
The document is from a lawsuit filed in August 2020 alleging that "the Defendants established a lucrative but sociopathic, criminal enterprise where the Defendants engaged in decades of human trafficking, sexual assaults and various abuses including financial & economic exploitation, drugging for abduction," and hostage-taking.
The suit sought $500 million in punitive or general damages.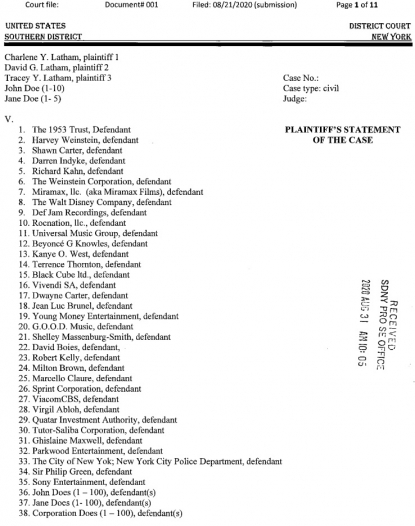 Screenshot of a court document taken on December 2, 2021
A judge dismissed the lawsuit in September 2020, saying the "Plaintiff's claims rise to the level of the irrational, and there is no legal theory on which she can rely."
And while the suit listed multiple individuals as plaintiffs, only Charlene Latham "signed the complaint or submitted a request to proceed without prepayment of fees," the judge said.
Latham had filed a similar suit in another federal court in March 2020 targeting Epstein's estate as well as US president Donald Trump, and which sought in excess of $50 million in damages, including the proceeds from the sale of Epstein's Palm Beach property.
The judge in that case said the "Plaintiff has failed to state a claim upon which relief may be granted," and dismissed the suit.