Mexico's Father Ángel Cuevas is alive and well
A video of a priest collapsing during a service has spread online alongside the claim that he died following vaccination against Covid-19. But Father Ángel Cuevas did not die, and an AFP journalist met with him in Mexico's Acapulco more than two months after he fainted in an episode he said was unrelated to vaccination.
"RECENTLY FULLY VACCINATED PRIEST DIES ON LIVE STREAM," says the title of a video posted on Bitchute on November 23, 2021.
Screenshot taken on November 30, 2021 of a video posted on Bitchute
The same video was shared on social media alongside similar claims in English, French and Spanish -- part of a flood of inaccurate information about vaccines circulating on the internet as countries around the world seek to vaccinate their populations against Covid-19.
But Cuevas is alive and continues to broadcast his services on the Facebook page of his church.
To locate him, AFP conducted a reverse image search of stills from the video, finding a matching clip that appeared in a September 4 article on the Mexican news site 24-horas. The article says Cuevas, a priest at Our Lady of Guadalupe church, passed out while holding mass.
The video embedded in the article is from the YouTube account Quadratin Guerrero, another Mexican media outlet, the caption of which said it was filmed in Acapulco on September 4, 2021.
AFP located the church on Google Maps, and contacted Cuevas by phone on November 25. He explained that he is fine, and said the video simply shows him experiencing "a drop in blood pressure."
"It is in no way a consequence of the vaccine," Cuevas said, adding that he has also not suffered from Covid-19.
An AFP journalist then met the priest in person and took the below photo of him.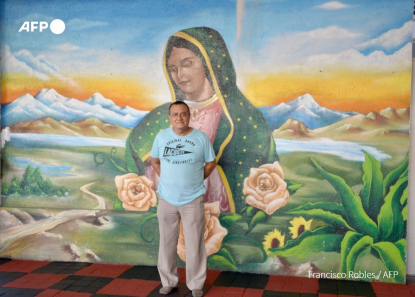 Father Ángel Cuevas poses on November 25, 2021 ( AFP / )
To date, Mexico has administered more than 132 million doses of Covid-19 vaccines.
In August, Pope Francis encouraged the Catholic faithful to get the coronavirus vaccine, calling it "an act of love."