One of these photos is not from the November 2021 pro-government rally in Addis Ababa
Two images of large crowds have been shared on social media alongside a claim that they show a pro-government rally held in Ethiopia's capital Addis Ababa on November 7, 2021 -- a gathering intended to show solidarity with the government in its fight against rebels threatening to capture the city. But the claim is misleading: one of the pictures, though taken in Addis Ababa, shows a different pro-government demonstration in 2018.
The images were published on Twitter in Kenya on November 7, 2021, and have since been retweeted more than 2,700 times.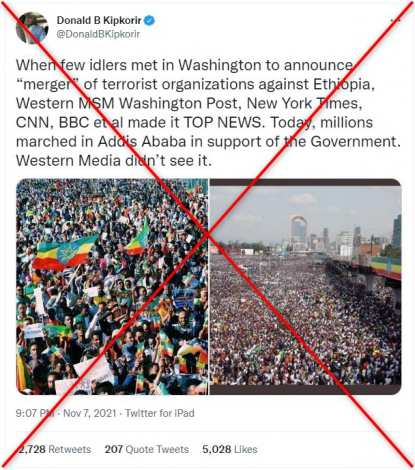 Screenshot of the misleading tweet, taken on November 11, 2021
"When few idlers met in Washington to announce 'merger' of terrorist organizations against Ethiopia, Western MSM Washington Post, New York Times, CNN, BBC et al made it TOP NEWS. Today, millions marched in Addis Ababa in support of the Government. Western Media didn't see it (sic)," reads the tweet.
The Ethiopian government's November 2020 offensive in the northern Tigray region was meant to be a swift operation but now threatens to unleash instability across the country, as fears grow of a rebel advance on Addis Ababa.
Despite Prime Minister Abiy Ahmed's administration dismissing recent claims of territorial gains by Tigrayan rebels and its allies, it has nonetheless ordered the capital to strengthen its defences.
While it is true that a huge crowd of tens of thousands of demonstrators filled Addis Ababa's Meskel Square for a pro-government rally on November 7, 2021, one of the photos shared in the tweet is not from the event.
Old photo
The first picture, which shows a crowd of people waving Ethiopian flags and placards, was taken in Addis Ababa on November 7. It was published on the official Facebook account of Ethiopian Broadcasting Corporation, a state-owned media organisation.
AFP reported that tens of thousands joined the pro-military rally where attendees poured scorn on diplomatic efforts to end the conflict, spearheaded by US official Jeffrey Feltman who visited the country.
The rally was held to show support for the government in its fight against an alliance of rebel forces threatening to march into the country's capital.
However, a reverse image search found that the second picture is not from the recent rally. It was taken in 2018 and was used at the time in articles by Reuters, the BBC, and Turkey's Hurriyet Daily News. The photo is credited to Reuters.
Screenshot of the original image published on the Hurriyet Daily News website on June 23, 2018
The picture shows a June 23, 2018 rally, which was attended by thousands of Ethiopians in support of Abiy's push for radical political and economic reforms in the country, just three months after he became prime minister. AFP reported that this was Abiy's first mass rally in the country's capital since he assumed office.