These images do not show Argentinian and Nigerian troops helping Tigrayan rebels in Ethiopia
Two images of men wearing green and brown uniforms have been shared on Facebook in Ethiopia alongside a claim that they show Argentinian and Nigerian soldiers helping Tigrayan rebels to fight Ethiopian government forces in Ethiopia's north. But the claim is false: the first picture shows Argentinian prisoners of war during the 1982 Falklands conflict while the second shows a group of freed Boko Haram terror suspects in Nigeria in 2018.
The post containing the two pictures was published on Facebook on November 5, 2021, and has since been shared more than 70 times.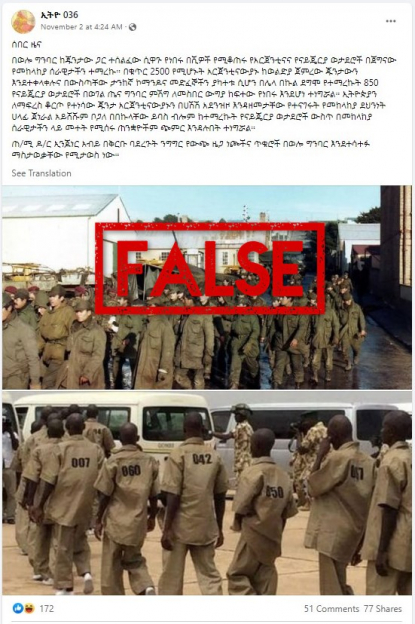 Screenshot of the false post, taken on November 5, 2021
Written in Amharic, the post translates to: "Thousands of Argentinians and Nigerian soldiers fighting alongside TPLF [Tigray People's Liberation Front] on the Wollo front were captured by our heroic defence forces. It has been said that 2,500 Argentines have joined the junta at Weldiya and they comprise tank operators, commandos and cannons. The 850 captured Nigerian soldiers fought to break through a tunnel at the Wegeltena front."
Wollo is a zone in the northern Amhara region. Weldiya and Wegeltena are towns in Wollo.
The year-old conflict in Ethiopia's north erupted in November 2020 when Prime Minister Abiy Ahmed sent troops into Tigray to topple the TPLF, the regional ruling party and former national rulers, a move he said came in response to rebel attacks on federal army camps.
The images began circulating online days after fierce fighting between government troops and the rebels was first reported 375 kilometres (235 miles) north of the Ethiopian capital Addis Ababa, prompting Abiy to urge his countrymen to unite and join the fight.
According to local news outlet The Ethiopian Monitor, Abiy said that the rebels were being supported by non-Ethiopian fighters on the Wollo front.
However, the photos shared on Facebook do not show Argentinian and Nigerian troops fighting in Ethiopia.
Photos from unrelated events
By conducting a reverse image search, AFP Fact Check found that the first picture shows Argentinian prisoners of war in Port Stanley in 1982 during the Falklands War -- a conflict between Argentina and the United Kingdom for control of the Falkland Islands.
The picture can be seen on the website of US magazine The Atlantic and is credited to photographer Kenneth Ian Griffiths.
Screenshot of the original image published by The Atlantic on March 30, 2012, to commemorate the 30th anniversary of the Falklands War
The second photo shows a group of suspected Boko Haram jihadists who were set free by a Nigerian court in February 2018 due to a lack of evidence.
The image was published in an article by the German broadcaster Deutsche Welle and is credited to photographer Amin Suleiman Mohamed.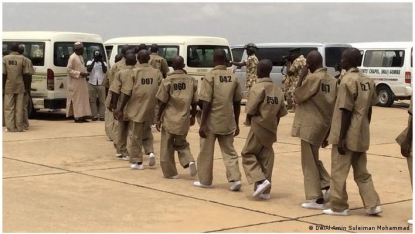 Screenshot of the original image as shown on the Deutsche Welle website