Facebook users share misleading claim about former FDA official
Multiple Facebook posts claim that a former vice president of US agribusiness Monsanto is also the "current Deputy Commissioner" of the US Food and Drug Administration (FDA). The posts -- shared repeatedly online in August 2021 -- shared two identical photos of US lawyer Michael R Taylor. The claim is misleading: Taylor stepped down from his role at the FDA in 2016.
The claim was shared by an Australian-based user here on August 28, 2021.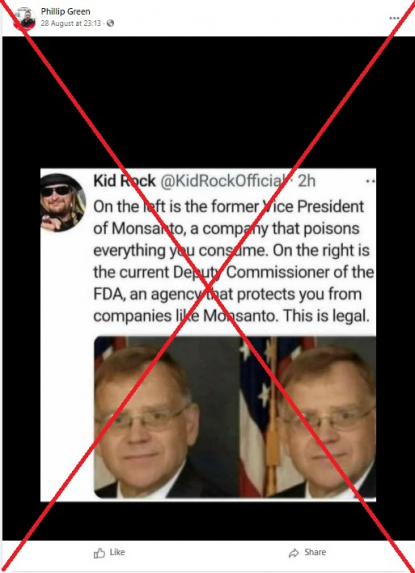 A screenshot of the post, taken September 16, 2021.
It states: "On the left is the former Vice President of Monsanto, a company that poisons everything you consume. On the right is the current Deputy Commissioner of the FDA, an agency that protects you from companies like Monsanto".
The claim circulated online after the FDA fully approved the Pfizer-BioNTech Covid shot, triggering a new wave of vaccine mandates in the US as the Delta variant battered the country.
A similar claim was shared on Facebook here, here and here.
The claim, however, is misleading.
Past roles
Michael R Taylor previously served as Vice President for Public Policy at Monsanto. He held the position from 1998 to 2001, according to The Washington Post.
He has held various positions in the FDA, but stepped down as Deputy Commissioner for Foods and Veterinary Medicine in 2016.
His resignation was announced in this FDA press release.
Taylor has never held the position of "Deputy Commissioner of the FDA", an online search on the FDA's website found.
As of September 21, 2021, he was a Senior Fellow at the nonprofit Meridian Institute.
Frank Yiannas took over Taylor's old role under the new title of Deputy Commissioner for Food Policy and Response in 2018.
As of September 21, 2021, the FDA Principal Deputy Commissioner position was vacant. The FDA's Acting Head Commissioner was Dr Janet Woodcock, according to the FDA website.
Hoax tweet
The post includes an image that was taken from this hoax account for the American singer-songwriter Kid Rock.
Neither the hoax Twitter account, nor an archived version of the account's timeline shows the purported tweet featured in the misleading Facebook post.
Multiple advanced searches of Kid Rock's real Twitter timeline found no results for the purported tweet shared in the Facebook post (see the searches here, here and here).