Footage of crowd shows university protest in Kenya, not Covid-19 demonstration in France
A video shared hundreds of times on Facebook claims to show people in France being dispersed by police during a protest against Covid-19 vaccines. But the claim is false: the clip shows students from the University of Nairobi in Kenya demonstrating against fee increases.
The video has been shared on Facebook more than 380 times since it was posted on July 15, 2021.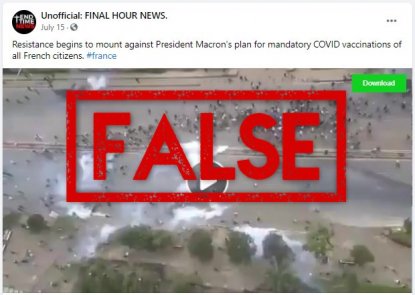 Screenshot of the post, taken on August 31, 2021
Referring to French President Emmanuel Macron, the post's caption reads: "Resistance begins to mount against president Macron's plan for mandatory Covid vaccinations of all French citizens."
The footage, filmed from above, shows police dispersing protesters using tear gas and water cannons.
In July and August 2021, thousands of people in France took to the streets after Macron announced mandatory Covid-19 vaccinations for healthcare workers and the use of health passes in most public places.
However, the video was taken in Kenya and is unrelated to protests against Covid-19 regulations.
Kenyan students protest
In the video, a person speaking Swahili can be heard saying "ebu angalia wale", which translates to "look at those people".
Swahili is widely spoken in the east African countries of Kenya, Tanzania, parts of Uganda and the Democratic Republic of Congo.
A reverse image search led to the same video on YouTube where the description of the footage indicated that the clip was filmed at a protest in Kenya's capital Nairobi where university students were demonstrating against plans to increase tuition fees.
In the first 10 seconds of the clip, the blue-green roof of a Shell service station can be seen in the bottom right corner. To its right is a narrow, rectangular billboard.
A search for Shell petrol stations near the University of Nairobi on Google Maps shows one here along University Way, where both the petrol station's vertical sign and the adjacent building's horizontal billboard are visible.

A side-by-side comparison of the video image (L) and views of the Shell petrol station on Google Maps
The petrol station's roof can also be seen here on the satellite imagery.
Over the road from the petrol station is the entrance to the University of Nairobi, seen in both the video and on Google Maps.

A side by side comparison of the video clip (L) and the satellite image of the entrance to the University of Nairobi
The July 2021 student unrest was also reported here and here by local Kenyan media.