Newspaper front page doctored with false poll report about Ugandan leader Yoweri Museveni
A newspaper front page circulating on Facebook in Uganda features a purported story claiming that a Forbes poll named President  Yoweri Museveni the most loved leader in Africa. But this is false: AFP Fact Check found that the front page was digitally altered and the poll does not exist.
The screenshot of the purported front page from the British newspaper Daily Mail has been shared nearly 30 times since it was published on Facebook on July 26, 2021.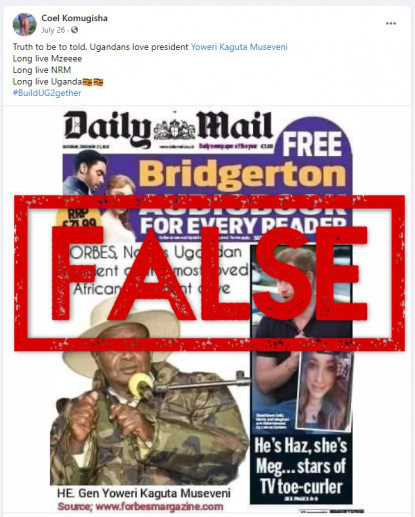 Screenshot of the doctored page, taken on August 30, 2021
It features a photo of Museveni with clenched fists dressed in military attire. Above, a headline reads: "Forbes, Names Ugandan President as the most loved African president alive (sic)."
Posts with the same front page have also been published here, here, and here on Facebook in Uganda.
Based in the US, Forbes is a biweekly business magazine that also runs regular polls on current affairs topics. 
Original front page has no Museveni story
By conducting a reverse image search, AFP Fact Check found that the real newspaper front page was published by the Daily Mail on February 27, 2021.
The original did not carry the story about Museveni but had an article titled: "What is truth about Covid deaths?"
Screenshot of the original Daily Mail newspaper front page, taken on August 30, 2021




Additionally, a review of the Forbes website and its dedicated polling section — the purported source of the survey — shows no such list.
Forbes spokeswoman Laura Brusca told AFP Fact Check that the organisation has never published a poll that ranked the Ugandan leader as the most loved African president.
"Yoweri Museveni has never been listed on Forbes as one of the 'most loved Presidents in Africa' and this list doesn't exist," said Brusca.
The 76-year-old Museveni, who took power in 1986, is one of Africa's longest-serving presidents and was elected for a sixth term in January 2021.