Image shows execution in Somalia, not a firing squad in Nigeria
An image of uniformed men standing in front of a person tied to a post has been shared multiple times in Nigeria alongside claims that Nigeria was "again" executing Nigerian soldiers who had asked for better arms to fight Boko Haram terrorists. This is false; the image shows an execution in Somalia in 2016.
The image shared more than 500 times here on Facebook, is captioned: "Shocking News! Again, Another 78 Nigerian Soldiers sentenced to death for demanding better ARMS to fight BOKO HARAM (sic)."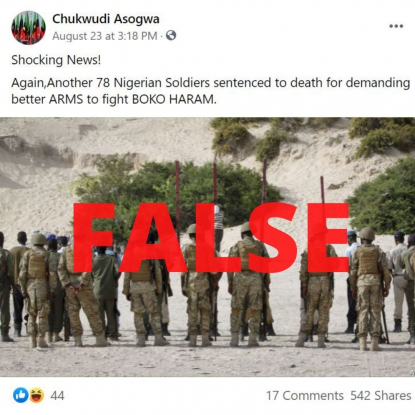 A screenshot taken on August 26, 2021, showing the false post
Death sentences for mutiny
In the past, Nigerian soldiers have indeed been sentenced to death for refusing to fight Boko Haram terrorists. In September 2014, the Nigerian military sentenced 12 soldiers to death for mutiny. They were court-martialled after firing shots at their commanding officer in the restive northeast city of Maiduguri, where Boko Haram has been waging an irregular war for years.
As AFP reported at the time, dozens of Nigerian soldiers refused to deploy for an offensive to try to retake the captured Borno town of Gwoza due to lack of adequate ammunition. 
In December 2014, another 54 soldiers were sentenced to death for mutiny after refusing to fight Boko Haram. 
According to local media, the death sentences for both these groups were later commuted to prison terms, and in August 2021, the group of 54 was released.
Image from Somalia
However, the image making the rounds on Facebook does not show Nigerian soldiers facing a firing squad as claimed. A reverse image search shows that the photo has been on the internet since 2016 and was taken by Associated Press in Mogadishu, Somalia.
According to the photographer's caption, the picture shows "Hassan Hanafi Haji, centre, a former journalist accused of belonging to al-Shabab and involvement in the killings of five Somali journalists, is tied to a wooden post as he is prepared to be executed by firing squad, at a police academy in the capital Mogadishu, Somalia".
A screenshot taken on August 26, 2021, showing the image from AP archive
AFP reported on Hanafi's execution here.
There have been calls to abolish the death sentence in Nigeria for decades. At least 57 death sentences were handed down in Nigeria in 2020 alone, however, there have been no recent executions.
The last executions recorded in the country, according to Amnesty International, were carried out in 2016.